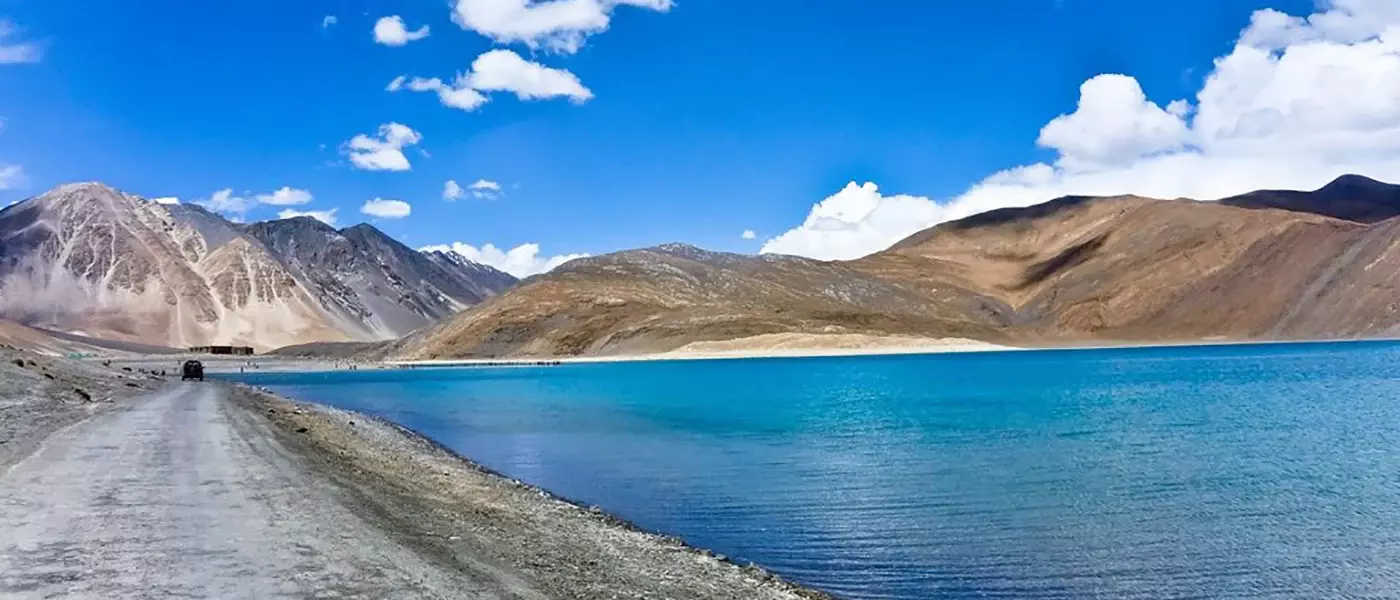 Book Ladakh Package Tour from Kolkata
Looking For Leh Ladakh Tour Package From Kolkata?
For Booking ☎ CALL : +91-93106-41165
9Nights
10Days

Pickup:
Srinagar

Drop:
Srinagar

Start From
32500.00/per person
If you are planning for a peaceful, soothing destination next summer then Leh-Ladakh is the best place for you to enjoy the beauty of nature. The cheapest Ladakh package tour from Kolkata has been arranged for you over here. Before you make your visit to Leh - Ladakh, you must know some basic details about the places.

Ladakh covers over 1,17,000 sq km in the southern extent Karakoram Range which is the highest region in the world. Leh is a town in Ladakh, which is the most remote area of India administered by Kashmir.

If you wish to explore the Pangong Lake, snow capped peaks, Indus and Zanskar river and traditional folk dance. The spectacular landscapes, the chilling snow blankets, and metaphorically a paradise land have so much to content every mind.

You will be also able to explore various amazing places of India throung our customised packages like North Sikkim Tour 2n/3d, Pelling Ravangla Gangtok tour from Bagdogra, Silk Route Package Tour, North East Tour Package, Dooars Package Tour, Andaman Package Tour,North East Package Tour,Kashmir Package Tour, Sundarban Tour Package and many more with your friends and family.
DAY WISE LADAKH TOUR PLAN FROM KOLKATA
Besides its rich historical significance, one cannot deny the natural beauty that it beholds. Being located in a remote area, the place does not receive much footfall which eventually helps to maintain its tranquility. If you are planning to spend a quiet time amidst Himalaya, we offer a Ladakh tour package for your up-coming vacation..

Ladakh Package Tour is designed in a way so that you can cover places that come on the way. So, here is the complete itinerary of the trip.
Once you reach Srinagar, you will be welcomed by our representatives but then you can have food from the best restaurants in leh and he will accompany you to your luxurious glorious houseboat in Golden Lake. The houseboat also has an attached boat (shikara) that is placed under the guests command, so guests can have a sip of tea or coffee with friends and family on the wide front sitting balcony.
These small paddle boats can take them out on the broad lake or across on their way to see everything they want to see. The property's rooms are nicely appointed and have amenities such as comfortable beds, silk linen, a table and chairs, floor carpets, and attached bathrooms with hot/cold water and needed toiletries. The price for a per night stay in the house boats vary between INR 800 - INR 4000.

Night Stay at Srinagar
Trip time: 4hrs
The scenery of Kargil is rocky, harsh, and steep, with a minimum elevation of 8,000 feet (2,440 metres). The climate is cold and dry, with little precipitation, mostly in the form of snow in the winter. Mulbekh monastery, 36 kilometres from Kargil on the way to Leh on National Highway 1D, is enshrined with a 9-meter tall idol of Maitreya Buddha (future) sculpted in the rocks.

The Dras War Memorial is a memorial established by the Indian Army near Kargil in commemoration of the troops and officers who died during the Kargil war in 1999. It's also known as Vijaypath, and it's made of pink sandstone with an epitaph honouring the brave troops.

In the Indian union territory of best places to visit in Ladakh, Zoji La is a high mountain pass in the Himalayas. The pass, which is located in the Dras, connects the Kashmir Valley to the west, the Dras and Suru valleys to the northeast, and the Indus valley to the east. Kargil's main street, being a small town, isn't really a shopper's paradise in the traditional sense. However, the main street has a variety of dried fruits as well as some delicious meals. Uru Valley, like the rest of the state, is a stunningly beautiful valley with the Suru River, a major tributary of the Indus, running through it.

Stay at Resort/Hotel
Trip time: 8am - 4.30pm
Mulbekh Monastery in Kargil is one of the most important sites you will see on your route from Kargil to Leh, with two main gompas named Drukpa and Gelugpa Monasteries. It is 45 kilometres from Kargil and situated at an altitude of roughly 3000 metres above sea level.

On way to Leh one will come across Magnet Hill, Confluence of the Indus and Zanskar Rivers, Fotu La Pass, Lamayuru, Lamayuru Monastery, Mulbekh Monastery. Magnet Hill is an illusion,even when in neutral, you can feel the cars moving forward. In fact, the area's layout and hills give the impression that the downhill road is actually an uphill road.

On the Kargil
Leh highway, one of the most spectacular views is the confluence of the rivers Zanskar and Indus, which can be seen from Nimo (Nimu or Nimmo) village. This place is only 35 kilometres from Leh city and 6 kilometres from Nimo.
The highest point on this roadway is Fotu La or Fatu La. It is located on the Srinagar-Leh route in India's Himalayan Zaskar Range. It is located at an elevation of 4,108 metres above sea level.
Lamayuru is around 100 kilometres from Leh, just after Fotu la. The hill's structure was created in such a way that it resembles an alien planet. It was dubbed Moonland by the locals.

In the second and fifth months of the Tibetan lunar calendar, Lamayuru Monastery conducts two annual masked dance festivals, during which all of the monks from the neighbouring gompas come together to pray. Mulbekh Monastery, also known as Mulbekh Gompa, is a Buddhist monastery in Kargil that consists of two gompas, one Drukpa and one Gelugpa. Mulbekh Monastery houses various Buddhist monks' treasures, as well as a 9-meter-long Maitreya Buddha idol.

Stay at Resort/Hotel
Trip time: 8am - 4.30pm
It is nearly unavoidable (at least for those flying directly to Leh) to forgo the local sightseeing of Leh town, so knowing what all is available, whether in Leh or neighbouring Leh town, is crucial so that you may spend a day or two without getting bored and make the most of your time there.

The Khar – Leh Palace, Tsemo Castle, Namgyal Gompa

Since the 17th century, the Khar has been regarded as Leh's "landmark." On the same heights as this complex, the Leh Palace, Tsemo Castle, and Namgyal Gompa can be found. The museum displays a 450-year-old collection of ornaments, jewellery, thangkas, and paintings that appear to be brand new.
Shanti Stupa
Shanti Stupa was built in 1999 on a mountaintop in Leh's Changspa district at an altitude of roughly 14K feet (4267 metres). Among other places in Leh's local sightseeing itinerary, it is one of the most popular tourist destinations. When you visit Shanti Stupa, you will be greeted with a panoramic view of Leh town in the front and breathtaking surroundings in the rear.
Hall of Fame
Especially if you have not visited the Kargil War Memorial on the Srinagar Leh Highway, it is well worth a visit for every Indian to feel a sense of utmost respect and commemorate the spirit of the heroes of the Kargil War.
Leh Main Bazaar / Leh Main Market
The most appealing part of Leh is the main market, where you may sample the finest cuisines and shop for a range of things for yourself and your family, as well as contact travel agents for money exchange and tour/trek preparation. In reality, along with Changspa road of life in Leh Ladakh, this is the only spot where you will find the most of the hustle and bustle, and maybe the busiest portion of Ladakh.
Sankar Gompa / Monastery
It takes roughly a half-hour to walk from Leh to the road that leads to the Khardung La pass. They turn it on in the evening, and because visitors are only allowed in the morning and evening, they do so.
Zorawar Fort
If you're interested in history and old culture, go to Zorawar fort, which is around a 30-minute walk/hike from Leh's main market and can also be reached by jeep if you don't want to hike. This fort was owned by General Zorawar Singh, who is known for his battles with the Chinese. He was even dubbed "Little Napoleon of India" by Europeans.
Datun Sahib
The Datun Sahib tree, located near Leh Palace or directly beyond the Jama Masjid in the Leh Main Bazaar, is a Meswak tree that has religious importance for the entire Leh Ladakh region. It is supposed to be Guru Nanak Ji's first-ever tree, which he planted to bless the town.
Sindhu Ghat
tranquil location where you may enjoy the Indus River's banks and relax in gorgeous surroundings. The river's sound soothes whatever nerves you may have after arriving at this location. Sindhu Ghat is the place to be if you want to enjoy a lazy afternoon.
Spituk Monastery
It was built in the 11th century, around 8 km from Leh, at a height of 3300 metres, and might be a good addition to your Leh local sightseeing tour. The monastery is home to roughly 100 monks and a massive Kali statue, which is unveiled each year during the Gustor celebration, which takes place from the 27th to the 29th day of the Tibetan calendar's eleventh month.
Phyang Monastery
Built in the 15th century, it is located 16 kilometres west of Leh, on the way to Srinagar. It has a 900-year-old museum with an extensive collection of idols, including some superb 14th-century Kashmiri bronzes, thangkas, and Chinese, Tibetan, and Mongolian firearms and weapons. Sham Valley Tour
Sham Valley tour includes a day trip to Sham Valley that includes (in order from Leh) Gurdwara Pather Sahib, Magnetic Hills, Zanskar, and Indus River Confluence at Nimmu, Ruins of Basgo Palace and Basgo Plains, Alchi Monastery, and Likir Monastery, which are all west of Leh on the Srinagar Leh Highway.
Monastery Tour
You should be able to see some of Ladakh's most popular monasteries, including Shey Palace, Thicksey Monastery, Hemis Monastery, and Stakna Monastery, if you go east of Leh along the most adventurous Manali – Leh Highway. You can also choose to visit Matho Monastery and Stok Palace a little ahead of Stakna Monastery and complete the circuit while exiting Stok towards Leh, depending on time and interest.

Stay at Resort/Hotel
Trip time: 8am - 4.30pm
To get to Nubra Valley, you'll have to traverse the breathtaking Khardung La, the world's highest motorable pass. Tourists are also drawn to the frigid desert between Diskit and Hundur. Tourists flock to the chilly desert to see the sand dunes and take Bactrian camel rides.

Diskit features a number of mid-priced guesthouses. Camping tents are also available at the guesthouses. Sumur features luxurious camping with all of the necessary amenities. There are many good hotels in Hunder. Indian, Chinese, continental, and European cuisines are served in hotels and guest homes.

Stay at Resort/Hotel
Trip time: 8am - 4.30pm
Turtuk is an offbeat location in Ladakh. Wonderland of Turtuk is a little hamlet on the banks of the Shyok River, bordered on one side by Nubra and on the other by Baltistan. This strange small town of 4000 people is the final village before Pakistan – Occupied Kashmir – and is a riddle in and of itself. Turtuk literally translates to "a wish to stay" in Balti, which aptly reflects the people that live here. And through it all, their love for Turtuk has been unwavering.

Turtuk is best visited during the Ladakh region's tourism season, which runs from June to September.
Permits for the Inner Line
Inner Line Permit (for Indian nationals) or a Ladakh Protected Area Permit (for foreign nationals) is necessary when entering any remote area in the Ladakh region. Permits can be obtained through the internet. They are also accessible at the TIC Office in Leh's Main Market between the hours of 9:00 a.m. and 4:00 p.m. on all working days.

What is the Best Way to Get to Turtuk?
Turtuk can be reached by car. There are no railway stations in the immediate vicinity. However, the nearest airport is in Leh, Ladakh, which is 205 kilometres away from Turtuk. Turtuk may be reached in around 6-8 hours by car from Leh.
Taxis: Taxis are available for rent in Leh, both personal and for-share. In any case, most visitors prefer to complete the circuit, which includes Hunder, Nubra, and Pangong Tso. As a result, renting a vehicle for a longer period of time is recommended.
Buses:Turtuk route is served by bi-weekly buses. Locals in the Turtuk region primarily employ this means of transportation. Of course, travel can be difficult, not owing to poor road conditions, but rather due to the state of the buses. As a result, double-check timings and details at the Leh bus station, as they may change depending on the weather. Details on Leh to Nubra Valley Bus Services can be found here.

Pangong Lake, also known as Pangong Tso, is a stunning endorheic lake in the Himalayas that stretches from India to China and is 134 kilometres long. The fact that it changes hues is one of the things that makes this lake so popular. It is roughly 140 kilometres from Leh, Jammu & Kashmir, in the Himalayan range.

To get to Pangong Lake, all you have to do is travel five hours from Leh. This beautiful lake and its azure waves are enough to leave a lasting impression on your mind at first glimpse. The tiny ribbon of land that runs directly into the lake is what tourists and explorers come here to see. Tents are the sole choice if you want to stay near the lake.

You may also look at Lukung, which has some nice camping possibilities with their Eco Huts. You might also look for lodging in Spangmik; alternatively, you could investigate various choices in Tangtse hamlet, which is located in Leh. Pangong Lake is roughly 34 kilometres away from this settlement.
Hotel Pangong Residency (094192 43495, Tariff- Rs 2800 onwards) is one of the greatest places to stay in the area. The Pangong Residency is a perfect blend of modern and traditional architecture. There are other guest houses, like the Padma Guest House, which has breathtaking views of the Pangong Tso Lake. You will not be able to book your accommodations in advance, and you will have to do it after you arrive. A double bed costs between Rs 700 and Rs 1000 in this city.

Hanle, in Ladakh's Changthang district, is one of the most beautiful, charming, peaceful, and soul-soothing spots in the country. Hanle features a gorgeous Hanle Monastery that provides some fantastic aerial views of the entire community of roughly 1000 people. The views from the monastery's apex are simply breathtaking.

Hanle also houses the Indian Astronomical Observatory, which stands at an astounding height of 4500 metres and is the world's highest observatory. The Indian Institute of Astrophysics in Bengaluru operates the Hanle Observatory, which is currently the world's second-highest optical observatory, with a diameter of 2.01 metres (6.5 ft).

This is the most common route to Hanle that most visitors use when visiting this stunning location in Ladakh. You can get there in 9 - 10 hours, depending on how many breaks you take along the way. The following is the itinerary, as well as the distance between the successive locations:

Tso Moriri Lake, in the Changthang district of Ladakh, is one of India's most beautiful, serene, and sacred high-altitude lakes (for Ladakhis). It is India's largest high-altitude lake wholly within Indian borders. This lovely blue palette lake is roughly 7 kilometres wide at its widest point and 19 kilometres long.

It is known as Tsomoriri Wetland Conservation Reserve since it is part of the Ramsar site's wetland reserve. You are not permitted to set a camp near Tso Moriri or construct any type of lodging on the lake's edge. It is the world's highest Ramsar site. The region is home to a diverse range of vegetation and wildlife.

Tso Moriri is roughly 240 kilometres from Leh, the capital of the Ladakh district in Jammu and Kashmir. A day travel from Leh to Tso Moriri Lake is not possible because it would be extremely stressful and ineffective. As the weather becomes colder, the tourists begin to settle in, and the lodging tents along the lake begin to dismantle.

The greatest time to visit Tso Moriri and view the lake in its full grandeur of stunning blue hues. At this time of year, the colours are truly spectacular, and because there are fewer tourists, you can get better deals and enjoy more.

Tso Moriri is accessible by road from Leh through the Upshi – Chumathang – Mahe route. The Chusul – Tsaga La – Loma – Mahe route also connects Tso Moriri Lake to Pangong Lake.

Tso Moriri is situated at a stunning 14,836 feet above sea level. Tso Moriri is around 8-9 hours away from Leh, depending on your speed and breaks. The distance between Leh and Tso Moriri is around 240 to 260 kilometres.

By Bus -
Three JKSRTC buses run between Leh and Tso Moriri. They do, however, only function on the 10th, 20th, and 30th of each month. It leaves at 6.30 a.m. from the Leh bus station. Korzok village is the bus station you must specify while purchasing your ticket. It is the closest village to the lake, just a 15-minute walk from the lake's shoreline. The bus ticket may be purchased at the Leh bus station. The cost of a one-way bus ticket from Leh to Tso Moriri is roughly Rs. 370.

By Private Vehicle -
Route 1:
Leh – Shey – Upshi – Kumdok – Kere – Chumathang – Mahe – Nashang La – Karzok or Tso Moriri.
The shortest way via Chumathang Valley is this one. Begin your journey from Leh as soon as feasible, following the route until you reach Upshi, when you will take the Mahe detour. You will be required to register at the Mahe checkpoint. Then cross the bridge and go to Sumdo, where the Namashang La ascent begins. A few kilometres ahead, you'll see an ancient dirt road leading to Karzok.

Route 2:
(Leh – Shey – Karu – Upshi – Tanglang La – Tso Kar – Polo Kongka La – Sumdo – Namashang La – Karzok or Tso Moriri.
As previously stated, the path from Leh to Upshi is the same. Instead of Chumathang, you'll have to continue on the Manali Leh highway to Rumtse from Upshi. Once you cross Rumtse and see the More plains, the ascent for Tanglang La begins. Take the route to your left after leaving the Manali Leh Highway.

Route 3:
Leh – Chang La – Tangtse – Pangong Tso – Merak – Chushul – Tsaga La – Mahe – Sumdo – Karzok or Tso Moriri (Leh – Chang La – Tangtse – Pangong Tso – Merak – Chushul – Tsaga La – Mahe – Sumdo – Karzok
This route will take you from Leh to Shey, following which you will continue on the Manali-Leh highway to Chang La. After there, a short journey on narrow roads takes you to Spangmik (Pangong Tso), from whence you can continue driving to Chushul. The village of Mahe is your next stop, and you'll have to traverse the high altitude pass of Tsaga La to get there.

By Bike-
Riding a bike across the Indus River with huge cliffs soaring above your head is an unforgettable experience. You will travel through Chumathang, a lovely rural village with natural hot springs. At 16,000 feet, take the Namshang La to Mahe and then on to Sumdo. Then head towards Karzok on the buttery-smooth roads. Make sure to fill up your tank at Leh and bring extra fuel with you because there are no petrol stations after Leh.

Then you can start from the best hotels in leh ladakh to reach the Leh Airport, you can have your breakfast or lunch at Airport as per your flight departure time.


LADAKH TOUR PACKAGE INCLUSION:
→ Accommodation at the listed home stays
→ All meals (Breakfast, lunch, evening snacks, and dinner)
→ Exclusive vehicle for transfer service
→ All permits and taxes
LADAKH PACKAGE TOUR EXCLUSION:
→ Things which are not on the inclusion list
→ Charges for room heater
→ Syndicate charge at Siliguri
→ Entry fees for Pangolakha Wildlife Sanctuary and sunrise from Lungthung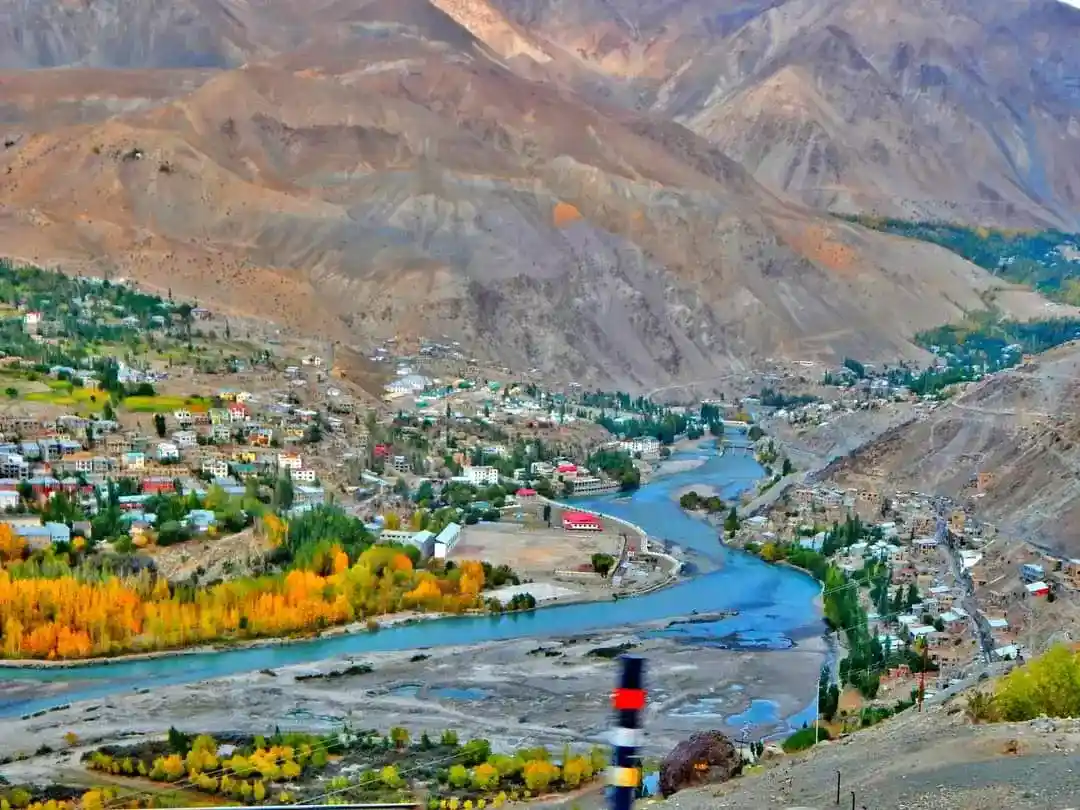 PLACES TO VISIT AT LADAKH
Here are some places that you must include in your Ladakh Tour from Kolkata-
Thiksey Monastery is a beautiful monastery located in the Thiksey village of Ladakh. It is one of the largest monasteries in Ladakh and is known for its stunning architecture and beautiful paintings. The monastery is home to around 80 monks and is an important center for Buddhist teachings in the region.

Shey Monastery is an ancient monastery located in the Shey village of Ladakh. It was built in the 17th century and is known for its beautiful wall paintings and sculptures. The monastery is located on a hill and offers stunning views of the surrounding landscapes.

3 Idiot School is a popular tourist destination in Ladakh. The school was featured in the Bollywood movie "3 Idiots" and is known for its beautiful architecture and scenic location. The school is located in the Hemis village and offers stunning views of the Hemis National Park.

Leh Palace is an ancient palace located in the city of Leh. It was built in the 17th century and is known for its beautiful architecture and stunning views of the surrounding landscapes. The palace was the former residence of the royal family of Ladakh and is now a popular tourist attraction in the region.

Shanti Stupa is a beautiful stupa located in the city of Leh. It was built in the 20th century and is known for its stunning white dome and beautiful views of the surrounding landscapes. The stupa is a popular spot for tourists and locals alike and is a symbol of peace and unity.

Hemis Monastery is an ancient monastery located in the Hemis village of Ladakh. It was built in the 17th century and is known for its beautiful wall paintings and sculptures. The monastery is located in a scenic valley and is a popular destination for tourists.

Sindhu Ghat is a beautiful ghat located on the banks of the Indus River in the city of Leh. It is a popular spot for tourists and locals alike and offers stunning views of the surrounding landscapes. The ghat is also a popular spot for picnics and other recreational activities.

Pangong Lake is a beautiful lake located in the eastern part of Ladakh. It is known for its crystal-clear blue waters and stunning views of the surrounding mountains. The lake is a popular destination for tourists and is a must-visit spot for anyone traveling to Ladakh.

Nubra Valley is a beautiful valley located in the northern part of Ladakh. It is known for its beautiful landscapes, picturesque villages, and ancient monasteries. The valley is home to several rare species of flora and fauna and is a popular destination for trekkers and nature enthusiasts.

Khardung La Khardung La pass is a high mountain pass located in the Ladakh region of the Indian state of Jammu and Kashmir. It sits at an elevation of 5,359 meters (17,582 feet) above sea level, making it one of the highest motorable passes in the world.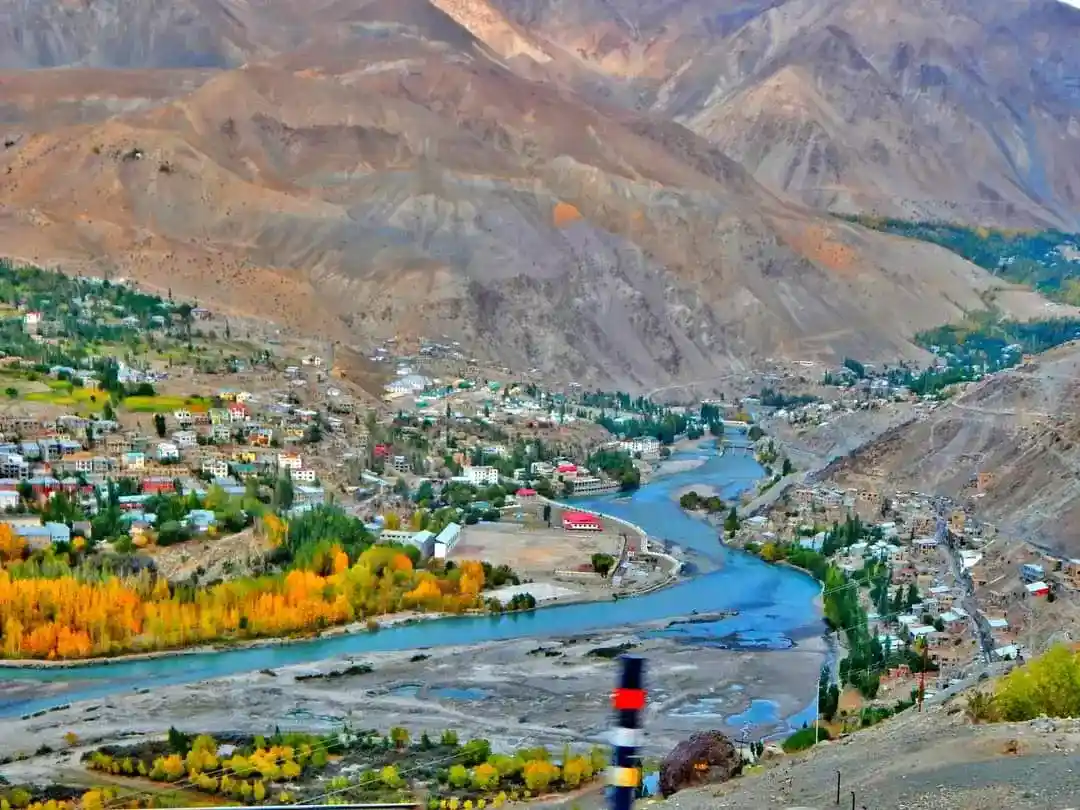 ACITIVITIES AT LEH LADAKH
Popular attractions and activities in your Ladakh Tour from Kolkata -
Monasteries: Ladakh is home to several ancient monasteries, which are an integral part of the region's rich cultural heritage. Some of the most famous monasteries that are included in a typical Ladakh package tour are Thiksey Monastery, Hemis Monastery, and Shey Monastery. These monasteries are known for their intricate architecture, beautiful artwork, and unique Buddhist traditions.

Trekking Ladakh is a trekker's paradise, with several scenic trails that offer breathtaking views of the mountains, valleys, and lakes. Popular trekking routes that are included in a Ladakh package tour are the Markha Valley Trek, the Stok Kangri Trek, and the Chadar Trek. These treks offer a unique opportunity to experience the rugged beauty of the Ladakhi landscape and interact with the local communities.

Culture and Villages: Ladakh is known for its unique culture, which is a blend of Tibetan and Indian influences. A Ladakh package tour includes visits to remote villages such as Lamayuru, Alchi, and Nubra Valley, where travelers can experience the local way of life, interact with the villagers, and learn about their customs and traditions.

Adventure Sports: Ladakh is also a popular destination for adventure sports enthusiasts. Activities such as river rafting, mountain biking, and camel safaris are included in many Ladakh package tours. These activities offer a thrilling way to explore the rugged terrain and experience the natural beauty of the region.

Lakes: Ladakh is home to several serene lakes, such as Pangong Lake and Tso Moriri Lake, which are included in a Ladakh package tour. These lakes offer stunning views of the surrounding mountains and are ideal for activities such as boating and camping.

Local Cuisine: Ladakh has a unique cuisine that is a blend of Tibetan and Indian flavors. A Ladakh package tour includes opportunities to taste the local delicacies such as momos, thukpa, and butter tea.

In addition to the above attractions and activities, a Ladakh package tour also includes accommodations, transportation, and a guide who is knowledgeable about the region's history, culture, and traditions. The cost of a Ladakh package tour varies depending on the duration, itinerary, and level of comfort of the accommodations and transportation.
WHICH IS THE BEST TIME TO TRAVEL AT LEH LADAKH?
The best time to visit Ladakh depends on your interests and preferences. Generally, the summer months (June to September) are the most popular time to visit Ladakh as the weather is pleasant and the roads are open. During this time, you can enjoy outdoor activities like trekking, biking, and camping.
If you're interested in seeing the famous frozen rivers, then the winter months (December to February) are the best time to visit Ladakh. During this time, you can also witness the traditional festivals like Ladakhi Losar and Hemis Festival.
However, it's important to note that Ladakh is a high-altitude desert and can experience extreme weather conditions at any time of the year. So, it's advisable to check the weather forecast before planning your trip and also to acclimatize yourself to the high altitude before undertaking any strenuous activities.

LADAKH TOUR PACKAGE PRICE FROM KOLKATA
| Packages | Duration | Rooms | Price |
| --- | --- | --- | --- |
| LADAKH TOUR 6N/7D | 6N/7D | DELUXE/LUXARY | 30000/32500 |
| LADAKH TOUR 7N/8D | 7N/8D | DELUXE/LUXARY | 35000/39500 |
| LADAKH TOUR 9N/10D | 9N/10D | DELUXE/LUXARY | 45000/49000 |
Why Do You Visit Leh ladakh With Tourist Hub India?
More than words, we let our service speak for us. As a Ladakh tour operator from Kolakta, we have provided our esteemed clienteles with an unmatched the Best Ladakh package Cost. We believe in the utmost customer satisfaction which is why we have a flexible and tailor made Ladakh tour packages and easy online Ladakh tour booking system. As we are a trusted Ladakh tour operator in Kolkata "Safety and Comfort" is the foundation of Tourist Hub India which has helped us two thrive in this competitive travel business. We have sucsessfully completed and have so many happy guest last five years. As a part of our amazing Leh Ladakh packages, we provide:
→ The best accommodation facilities.
→ Delicious healthy breakfast, Lunch and Dinner
→ Complete tour management.
→ Custom Sightseeing and Explore amazing places.
→ 100% pocket friendly best Package Price.
→ Doctor On Call on Trip
→ 100% Safety & Security
→ Customize Ladkah tour itinerary.
→ AC comfortable transportation, entertainment and celebration
→ 100% Covid Safety Guideline followed by Team
Tips for Leh Ladakh Tour from Kolkata?
The significance of Leh Ladakh Package Tour offered by Tourist Hub India is not for the people who look for comfort and luxury in the places. The entire region is relatively remote; thus, amenities are limited. Here are a few things that you need to consider if you are willing to explore the region
→ The places that are included in the Ladakh tour package are mostly remote so you should not expect modern facilities. The home stays will provide you with basic amenities which are comfortable. There will be no internet connection, luxury furniture, and television with cable connection.
→ As the place is remote, finding an ATM is hard. So, we suggest you carry enough cash for emergencies.
→ You will be travelling to a high security zone of India and that is why you need to carry your original photo ID along with you.
→ The weather condition is relatively harsh in that region so you must carry woolen clothes, and necessary medicines.
→ While you are travelling to a high altitude region like Nathag valley, we ask you to refrain from consuming liquor.
→ The altitude is not favorable for elderly people and children; so we suggest deferring from buying Ladakh Tour Package if you are not physically fit or accompanying someone who is too young or old.
→ Basic medicines for fever, cough, cold, stomach upset for your own safety
HOW TO REACH THE LEH LADAKH?
If you book our Ladakh Package Tour from Kolkata, we will provide pick up and drop facilities from and to the railway station/airport. While you travel in difference place at Leh-Ladakh, you need to know the distance and duration so that you can plan the tour accordingly.

| From | To | Road Distance | Tentative Time |
| --- | --- | --- | --- |
| Srinagar Airport | Golden Lake | 12.9 KM | 31 min |
| Srinagar | Kargil | 201 KM | 5 hr 28 min |
| Kargil | Leh | 216 kM | 4 hr 49 min |
| Leh | Nubra | 160 KM | 4 hour 42 min |
| Nubra | Pangong | 274 kM | 7 hour 22 min |
| Pangong | Hanle | 310 km | 7 hour 14 min |
| Hanle | Tsomoriri | 150 km | 2 hours 30 min |
| Tsomoriri | Leh | 240 km | 5 hr 10 min |
COVID 19 Precautions During Travel To Leh Ladakh Package tour from Kolkata:
→ We will provide Face Mask & Sanitizer for all tourists in the tour..
→ Sanitization process maintained by our trained staff before check in and check out.
→ Maintain daily basis sanitization for our boat.
→ Sanitizer is also available in every room and restaurant.
→ Transportation vehicle is also fully sanitized by our own staff.
Tourist Hub India Other Packages?
Holiday Trip in Leh Ladakh
Find The Answer On Your Queries about Ladakh Tour
The best time to visit Ladakh is during the summer months, from April through July, when temperatures range from 15 to 30 degrees celsius. Ladakh is notorious for having exceptionally low temperatures for virtually the entire year.
For Ladakh, a journey of 7 to 10 days is sufficient because you will be able to view a lot of sights. However, if you want a journey that isn't too long, 15 days will suffice.
Only day visits have been allowed. 20 March 2022: Hotel Ladakh Imperial and Hotel Reenam are also open for tourists in Leh. 15 March 2022: Nubra Ecolodge at Sumur (Nubra) has also resumed operations. 1 March 2022: Tourists are required to bring Covid-19 test report to visit Leh Ladakh.
Contrary to popular belief, Ladakh is a relatively safe and secure region. The tourism districts of Leh and Ladakh were far away from where a Chinese platoon had set up camp even during the Chinese assault.
Ladakh is a frigid desert on the eastern border of Jammu and Kashmir, located in the Great Himalayas (Fig. 9.4). It is surrounded by the Karakoram Range in the north and the Zanskar Mountains in the south. Ladakh is traversed by several rivers, the most notable of which is the Indus.
There is no train station in Ladakh, thus you can't get there by train. Jammu Jammu Tawi (700 miles from Ladakh) is the nearest railway station, having connections to Delhi, Kolkata, and Mumbai. To get to Ladakh from Jammu, you can rent a cab or take a JKSRTC bus.
Kargil is a great place to go hiking, camping, mountaineering, river rafting, and other adventurous sports. The Nun and Kun peaks, the Mulbek, and the Zanskar Valley are just a few of the region's significant tourist attractions.
Leh Ladakh Tour Booking and Cancellation Policy :
→ Ladakh Package Tour booking Would be Intimated through corporated emailm id.
→ Company Service Voucher Would be Issued to the Guest aginst the same.
→ 50% advance payment (100% for super peak time) is required to get the confirmation.
→ 100% Payment to be made before 3 days of Check In.
→ For any cancellation irrespective of no of days 15% charges will be levied.
→ 25% of the Package amount to be levied if cancelled between 20- 07 days before Check in.
→ 50% of the package amount to be levied If Cancelled between 07 – 03 days of Check in.
→ No Refund incase Of No show /Short Stay/or if Cancelled between 72 Hrs of Check in.
→ 100% cancellation Charge once Booking is made for Super Peak Season.
Leh Ladakh Tour Packages Reviews
4.7
Stars Rating, out of
5
based on
173
Reviews
Ladakh Tour Package Reviews
Extremely comfortable & fun trip it was & Tourist Hub India took good care of everything around especially the food they provided was incredible. Thank You so much for making me & my family so happy.

Mrinalini Ghosh

Dec 18, 2020

Thankyou Tourist Hub India for this wonderful ladakh trip. It was fun, comfortable & extremely adventurous . I recommend you guys to everyone around me. Thanks once again :).

Abhishek Chatterjee

Jan 01, 2021

We planned to visit Ladkh and kashmir, I made sure Ladakh was a part of it. Though this wasn't the first time, but I never enjoyed and explored ladakh trip from kolkata better than this time. The guides knew the territory like the back of their hand. Thanks to them, I managed to capture some excellent shots of the nature of ladakh.

Pampa Khastagir

Dec 25, 2020

I chose Tourist Hub India after one of my friends opted for their service Ladakh package and i'm glad. I chose them for my elderly parents and according to them, each member of the team was exsiting for this ladakh tour. They took care of their parents and made sure they didn't feel uncomfortable and lifetime experience of ladakh.

Dhiman Laheri

Jan 15, 2021

This was my first time in Ladakh trip from kolkata and I'm glad I chose Tourist Hub India. They were friendly and accepted all our requests. they even helped me to get the best view room in the hotel.