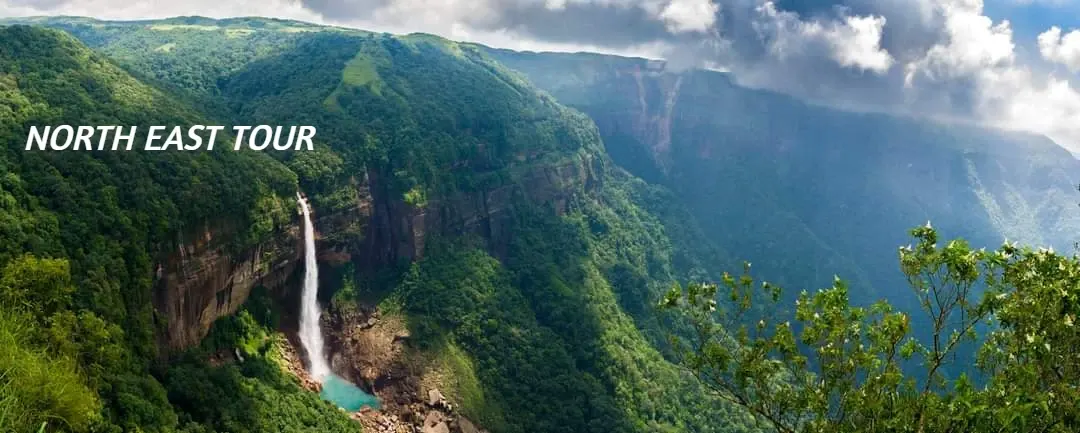 North East Tour Packages From Guwahati
North East Package Tour From Guwahati- For Online Booking ☎ CALL : +91-9830017303
19 Nights
20 Days

Pickup:
Guwahati Airport

Drop:
Jorhat Airport

Start From
15500.00/per person
During this holiday season, spend a wonderful moment exploring the mesmerizing North East part of India with our excellent North East trip packages!
We'll take you to the land of heavenly beauty covered with mesmerizing scenic valleys, mountains, and rivers, with well-customized services and reasonable prices. Additionally, this North East India trip will take you on an unforgettable journey for a memorable holiday!
Considered a treasure box of beautiful marvels and man-made wonders, this North East package tour is an ultimate destination for all adventure and nature lovers. This is a paradise on earth where you can get the vicinity of pure natural beauty and inner peace. In our, North East tour package from Kolkata, you'll visit all of the travel-worthy places like Cherrapunjee, Shillong, Meghalaya, Assam, Arunachal Pradesh, and Bhalukpong, Dirang, Tawang Bomdila, and Nameri, Itanagar, Ziro, Kaziranga, National Park, and Majuli/Jorhat. With our special North East tour packages from Guwahati, we bet that you'll have a lifetime experience!
Besides, our a variety of Tour packages to the North East has been tourist-favourite for many years and our North East tour operators are the knowledgeable and experienced ones who have prepared the best North East tour package itinerary for experiencing the best of the best North East tourism!

You will be also able to explore various amazing places of India throung our customised packages like Sikkim Package Tour, North sikkim Package tour from Siliguir/NJP, Sundarban Package Tour, Silk Route Package Tour, North Sikkim Package Tour, Leh Ladakh Package Tour, Dooars Package Tour, Andaman Package Tour and many more with your friends and family.
NORTH EAST TOUR PACKAGE ITINERARY
Here's our well-planned and customizable North East Tour Plan under the counsel of our highly knowledgeable North East tour planner to make your trip as memorable as possible;
NORTH EAST PACKAGE TOUR FROM GUWAHATI INCLUSION :
→ All transportation through commemorated and deluxe vehicle.
→ Knowledgeable & friendly driver throughout the trip.
→ Best Accommodations.
→ Elephant safari & Jeep Safari
→ Entry Fee Charges in Kaziranga National Park
→ All Permits & entrance fees.
NORTH EAST TOUR PACKAGE FROM KOLKATA EXCLUSIONS :
→ The things not mentioned in the inclusion section
→ Govt. GST
→ Entry Fee for Sightseeing points
→ Car charges for touring to Bumla pass
→ Non-operate A.C on hills
→ Personal Expenses
→ Price of any optional activity or service
NORTH EAST TRIP COST
Our North East tour package is 100% reliable and budget friendly and our North East India Travel Packages cover all of the best spots in the Northeast and one of the lowest North East trip costs among other agencies, it starts with ₹13,416 to ₹41,350. Moreover, our North East trip packages cost can increase in case you choose accommodation, meals, itinerary and other expenses. However, there's also our special Jeep and Elephant Safari to enrich your North East travel plan with more fun! The following are the price range of these activities you must know before the trip.

WHEN IS THE BEST TIME FOR NORTH EAST PACKAGE TOUR BOOKING?
North East is a place filled with natural treasure so before you book your North East India tour packages you must know the climate here as it's going to be a long trip. Moreover, on this long trip, you're going to witness three most astonishing North East travel destinations- Assam, Arunachal & Meghalaya.
Besides, some of the places here are above 3,000 meters like Tawang (Arunachal Pradesh) and some are surrounded by grass and valleys so, you must book your North East package tour wisely.
So, If you book your North East travel package with us, our North East tour from Guwahati specialists will provide you with the best season-wise North East tourism you have dreamed of!


Summer in North East [April-October]: The weather of Arunachal Pradesh will come to you as a relief from the hot weather of India. Plus, if you want to avoid the boiling weather of summer, our North East tour and travels from Kolkata and the North East trip from Guwahati will be the best choice! With a temperature between 8°c to 14°c it'll be the perfect place to spend your Summer Holidays!
Also, you get to witness the breathtaking beauties of mountains, streams, waterfalls, valleys, wildlife and monasteries in the beauty of summer. You can also witness the same weather in Shillong and Cherrapunji with a temperature of 10°c to 18°c which is a mixture of a bit of cold and rainy weather, ideal for summer!
However, there will be a problem to visit Kaziranga National Park as it remains closed from 30th April to 31st October (in 2021 it was 1st Oct) due to heavy rain the park goes under the flood water of the river Brahmaputra.
That's the reason you'll not be able to explore all the destinations that you are planning to visit during summer. But Arunachal Pradesh, Shillong and Meghalaya Package, will be the best North East tour places at this time.


Winter in North East [October-March] To run from your hectic work schedule and suffocating city life, winter will be the best time to spend your holidays in the North East!
From playing with snowballs to making a snowman, the temperature of Arunachal (Oct-March) will be an average of 4°C. You can do a lot of fun activities here!
Though the temperature of Shillong & Cherrapunji of Meghalaya remains very cold, places like Garo, Khasi and Jaintia make the North East filled with unadulterated beauty.
Also, Kaziranga National park will have the best wild inhabitants to draw you at this time and activities like Elephant Safari in Kaziranga National Park and Jeep Safari in four of its ranges such as Central Range or Kohora Range, Western Range or Bagori Range, Eastern Range or Agoratoli Range, Burapahar Range or Ghorakati Range will be the best part of your North East trip package itinerary.
So, booking your North East package tour during winter wouldn't be a disappointment!


Monsoon in North East [July-September]: Monsoon will be the best season to visit Cherrapunji and Mawsynram as during this time this place will turn into a paradise with glorious waterfalls, lush greenery and lakes with full brink. If you are an adventure lover and want to endure the rain, it'll be the best time for you!
Imagine sitting among the lush greenery, glamorous waterfall and glittering raindrops with a hot cup of tea and listening to old classic melodies! Sounds perfect right?
With temperatures of 9°C and 35°C, if you want to withstand rain-washed North East, book our North East trip from Guwahati between July to September.
POINT TO NOTE: Monsoon in the North East is covered with difficulties like a roadblock, landslides, and endless rain for several days. Kaziranga National Park also remains closed (April to October), so, booking a complete North East package itinerary for 19 Nights/20 Days is not suggestible at all during this time.
However, if you're a big travel enthusiast, keen to explore the over flood streams, washed valleys, and gushing waterfalls, you'll have the best North East tourism experience!

BEST PLACES TO TRAVEL IN SHILLONG
In the various North East tour places, Shillong is one of the most visited places. It is a gorgeous hill station in the North East Indian State of Meghalaya. For its captivating features, nature and caves Shillong is known as the "The Scotland of the East '' and ' Rock capital of India'. So, here are many amazing attractions of Shillong mentioned in the following you'll enjoy in your North East package tour from Guwahati:
Shillong Peak, is one of the highest peaks of Meghalaya providing an astonishing view of Shillong, which is located at an altitude of 1,965m.

Shillong Cave, is among the all deepest caves in India, Meghalaya has 9 of them, even an unexplored one! So, come and explore them in our North East tour packages mentioned below:

Mawjymbuin Cave, is A prominent place for adventure lovers, trekkers, geologists, and all explorers.

Mawsmai Cave, is one of the famous limestone caves of Shillong, located just 6 km from Cherrapunji. This place is the most crowd-puller and vibrant to provide travellers and explorers with a spellbound with its classic shape.

Krem Mawmluh, is waist-deep cave is considered the fourth-longest cave in the Indian subcontinent with a 7 km stretch. It also has huge caverns, various meters of belly crawl, and an unusual meter of climb. However, most of the portions of this cave remain in darkness hence guides are needed to scour this cave.

Siju Cave, is one of the largest limestone caves in India (7 km long). Located near Napak Lake and Simsang River, you'll find surprises in every corner of this cave. With the help of a guide, you can explore this interesting cave which is greatly admired by trekkers and adventure lovers.

Mawlynnong Village, is one of the main attractions of Shillong, also considered the cleanest village in India and Asia by Discover India Magazine (2003-2005). Located just 90 km away from Shillong, in this place a single piece of garbage, even a dry leaf, is difficult to find! Moreover, the inhabitant villagers here are too conscious about the cleanliness so, don't ever try to damage the cleanses of this scenic village. Also, smoking is strictly banned here for travellers. Apart from that, this village is a mesmerising place you'll never forget in your North East tour!
Bonus Fact: Shillong was ruled by the Garo, Khasi, and Jaintia tribes for decades and after that, it was a prime hill station for Britishers for a long time and after sometimes Meghalaya was merged with the Indian Union ( 21st Jan, 1972). In this North East tour package from Guwahati, we'll take you to the mentioned top tourist attractions!
DESTINATIONS COVERED IN THIS NORTH EAST PACKAGE TOUR
In your exciting 20 days journey North East tour package from Guwahati, you'll cover the following places→
Guwahati , one of the biggest states of Assam besides the river Brahmaputra, is covered with scenic beauties and home to the famous one-horned rhinoceros. This place will give a kick start to your North East tour package from Guwahati!

Cherrapunjee, also known as Soha, it's a town of Meghalaya and famous for its amazing living root bridges, made for the cultivation of rubber trees, bearable for 50 people. From the bridges, you can witness the glamour of the northeast to pleasure your eyes!

Shillong, one of the famous hill stations and t capital of Meghalaya, is living heaven! Filled with the tallest waterfalls, and beautiful terrain this place is also enriched with beautiful people and culture and is also known for its heavy rainfall.

Bhalukpong, is a small town in Assam and also the entry point of Arunachal Pradesh, it's mainly famous for having the Archaeological ruins of King Bhaluka, an ancient ruler of the region.

Dirang, is a scenic village in Arunachal Pradesh and is known for being the home to the Dirang Dzong or the Dirang fort, a historical fort used as a jail and shelter during the Vietnam War and World War II! You smell the rich history here during the North East tour package!

Tawang, is one of the main North East travel destinations, it has attained vast popularity among the travelers for its intriguing sightseeing spots like Gorichen Peak, Madhuri Lake, Nuranang Waterfalls and Sela Pass, and also the most popular 400-year-old, Tawang Monastery, a well-known pilgrim centre among the locals!

Bomdila, the headquarters of West Kameng district in the state of Arunachal Pradesh, offers views of peaks like Kangto and Gorichen Peaks, the highest in the state. Also places like Bomdila Buddhist Monastery, Buddha Park, and Guru Rinpoche statue are must-visit spots in your North East Package Tour !

Nameri, is a famous national park located at the foothills of the Himalayas. It's a paradise for all animal and bird lovers as here you can witness rare species of birds like white-winged wood ducks, tigers, and elephants.

Itanagar, is the capital and largest state of Arunachal Pradesh. Here you'll have experience of meeting friendly locals and witnessing inimitable Buddhist culture and heritage.

Ziro, , included in the Tentative List for UNESCO's World Heritage Site for the Apatani cultural landscape, this valley is inhabited by the Apatani tribe and is famous for its paddy-cum-pisciculture cultivation.

Kaziranga National Park, is heeded as one of the finest wildlife refuges in the world, this park has made a huge contribution to saving the Indian one-horned rhinoceros from the edge of extinction at the start of the 20th century. So, on your North East India trip, you got to witness this special animal!

Majuli/Jorhat , is the world's largest river island and it attracts tourists from all over the world, famous for its picturesque, lush green and pollution-free river island in the mighty River Brahmaputra.
ATTRACTION OF ROOT BRIDGES IN NORTH EAST TOUR PACKAGE
Root bridges are the ultimate attraction for travellers travellers' North East tour package at Meghalaya, and are boosting day by day. Among most of the root bridges of North East the like 11, most of them can be found in Meghalaya. In Meghalaya, you can see many deviations from the root bridges and even the famous two-storey one. The elegance and creativity of these bridges created by the locals will amaze you! There are several root bridges, like:
Double Decker Root Bridge , is one of the most famous double Decker root bridges found in Cherrapunji, also it is one of the distinctive wonders of the globe. This big bridge is around 12 km by road from Cherrapunji and it takes approximately 30 minutes to get there. Additionally, the village Nongriat is home to the stunning double-decker living root bridge. It will give you an ecstatic feeling that you have experienced in any other part of the world. This bridge is a must-visit living root bridge you can't miss in your North East trip plan and one of the reasons for it being special is that it is the only double-decker root bridge.

Immunol Root Bridge , is another major attraction among North East sightseeing points and our North East travel package in Meghalaya as this bridge is the oldest root bridge. This 17 metres (54 feet) long root bridge is built on the edge of the Ummunoi River, which will stun you with its existence.

Ritymmen Root, is known as the longest root bridge with a height of 30 meters and some sources also consider it the longest root bridge on the planet. It is located about halfway between Tyrna Village and the Nongriat Double Decker. As this bridge is very long, it'll take almost more than an hour to cross it by trekking. Make sure you do not miss this place on your North East India trip.

Mawsaw Root Bridge, is one of the root bridges famous for having a beautiful view. Here you can see the natural swimming pool which strengthens the beauty of this bridge. It'll take 30 minutes to pass the Nongriat Double Decker Root Bridge.

Mawlynnong Single, is one of the other attractions for tourists in the North East package tour and it is also considered to be the cleanest in Asia. It is also referred to as god's village for its cleanliness. It is placed in greenery with a flowing stream right under it.
DISTANCES BETWEEN PLACES TO NOTE FOR NORTH EAST TOUR
| From | To | Road Distance | Tentative Time |
| --- | --- | --- | --- |
| Guwahati | Cherrapunji | 147.8 km | 4 hr 16 min |
| Cherrapunji | Shillong | 53.9 km | 1 hr 45 min |
| Shillong | Mawlynnong | 78.1 km | 2 hr 41 min |
| Shillong | Dawki | 81.8 km | 2 hr 45 min |
| Shillong | Bhalukpong | 298.5 km | 6 hr 40 min |
| Bhalukpong | Dirang | 138.6 km | 4 hr 7 min |
| Dirang | Tawang | 134.5 km | 4 hr 30 min |
| Tawang | Bomdila | 176.7 km | 5 hr 31 min |
| Bomdila | Nameri | 122.7 km | 3 hr 25 min |
| Nameri | Itanagar | 153.4 km | 3 hr 56 min |
| Itanagar | Ziro | 109.5 km | 4 hr 26 min |
| Ziro | Tezpur | 279.0 km | 8 hr 32 min |
| Tezpur | Kaziranga | 50.6 km | 1 hr 17 min |
| Kaziranga | Majuli | 110.0 km | 3 hr 30 min |
| Majuli | Jorhat Drop | 41.3 km | 1 hr 50 min |
WHY DO YOU VISIT NORTH EAST TOUR WITH TOURIST HUB INDIA?
Tourist Hub India has been one of the best tour operators for northeast India for more than ten years, and our well-customized services and prices are perhaps the best provided by our North East tour operators as per your comforts and needs.
From the mesmerising ancient Tawang Monastery, the second largest monastery in the World to the Double Decker Root Bridges of Umshiang at Cherrapunji and the stunning view of Umiam Lake, expanding over 222 square kilometres, with us you'll get to witness the best North East sightseeing points.
However, our most preferable North East package tour itinerary is the North East tour packages from Guwahati as it encloses the best North East tour places at best costs.
Apart from it, there are many North East packages from Kolkata as well. We also have other special North East family tour packages and North East Holiday Packages.
Moreover, we're here to provide you with reasonable North East India tour packages which will stick in your memory for a long time!
North East tour package from Guwahati Duration:
It'll be a long-term journey to insulate the beauty of the North East, so we have arranged this North East package itinerary for the following duration for covering the best North East travel destinations- 19 nights and 20 days.

Pick up/ Drop up: In our customise North East tour packages we'll pick up and drop up in the following locations with our deluxe vehicles→
● Pick: Lokpriya Gopinath Bordoloi International Airport, Guwahati [GAU] / Guwahati Railway Station [GHY]
● Drop: Jorhat Airport [JRH]

Without any exaggeration, Tourist Hub India will provide with you the best tranquillity that will be captured in your heart forever. But, before confiding us you know why we are one of the most loved travel agencies for this North East Tour Packages
→ The best accommodation facilities.
→ Delicious healthy breakfast, Lunch and Dinner
→ Complete tour management.
→ Custom Sightseeing and Explore amazing places.
→ 100% pocket friendly North East tour cost.
→ Experience Driver.
→ Doctor On Call on Trip
→ 100% Safety & Security
→ Best tour itinerary.
→ AC comfortable transportation, entertainment and celebration
→ 100% Covid Safety Guideline followed by Team
COVID PRECAUTIONS TO KEEP IN MIND FOR NORTH EAST TOUR FROM GOWAHATI:
Your health and safety always come first to us, so here are the Covid precautions you'll get by us in this tour:
→ Thermal checking at the starting of the Tour.
→ Sanitized Cars & Boats.
→ Sanitized Rooms.
→ Availability of hand wash & Sanitizers.
→ Availability of masks like KN-95 & 3Ply.
→ Room cleaning by well-experienced staff.
TOURIST HUB INDIA OTHER PACKAGES
Find The Answer On Your Queries about North East Tour
● Visit Tawang's popular Tibetan market where you can bag a lot of souvenirs for your home.
● Grab some of the best Muga Silk sarees by taking a shopping walk through the most famous Guwahati silk market.
● Ride boats for mesmerizing memories at Umiam lake, the largest manmade reservoir.
● Watch the sun melt into the water during sunset from a beautiful Brahmaputra evening river cruise.
● Stroll through the Chincham Bridge in Tawang while enjoying the breathtaking views.

Besides setting your foot on some of the most beautiful places in Arunachal Pradesh during your trip, you can check out some of the astonishing places such as Ziro, Pasighat, Mechuka Valley, and more.
For the best North East trip plan, you need to look up the four following vital facts;
● Choose the best and most comfortable places to visit in North East as per your preference.
● Choose the number of days you're comfortable with.
● Choose the right North East travel agency.
● Choose the best accommodations as per your North East trip budget.
● Choose the mode of transportation you're most comfortable with from Guwahati.

North East India is popular among travellers for various facts, here are some of them the following;
● The one and only floating national park to exist.
● The rainiest place in the world.
● The cleanest village in Asia
● The largest women-only market in Asia.
● Having pleasant weather throughout the year.
● The dowry-free religion in India.
● The first organic state in the world.
● The origin of polo.

When it comes to strollingoll through some of the most beautiful root bridges in Riwai, the Single Decker bridge stands in the front row. Situated amidst the mesmerizing lush green scenery of the Meghalayan forest and the tranquil stream flowing under it, the bridge is accessible through Shillong-Mawlynnong road. It takes almost 2.5 hours to cover the 75km road from Shillong. From Mawlynnong, you can trek through the jungle road for 1km. A North East tour package from Guwahati will be perfect to cover the place during the trip.
You can book a car from Guwahati, Shillong and also from Shillong to Mawlynnong and Dawki River. However, in season time local drivers charge an excessive rate, so the best option is to book through the best tour operators for Northeast India, like us for a hassle-free Kaziranga Shillong Cherrapunji Tour.
In the Kaziranga Shillong Tour and other Tour packages to the North East, most people love to eat local Assamese preparations like Laksa, Khar, Tenga, and Mati Dal in your resort and hotels where you are staying.
Apart from these, during your tour to Kaziranga, you can have proper Assamese foods at Anurag Dhaba, starting with Rs. 250. Also, at the time of your journey to Meghalaya, you can stop by Punjab Da Dhaba, where you can enjoy tasty meals at Rs. 450 per head.
Additionally, In Shillong, you can also get a kick out of the amazing street food at Police Bazar with local authentic food.
Also, at the time of travelling to Cherapunjee, it'll be a total waste if you do not try Jiva Veg Restaurant (Rs. 500 per person) or Orange Roots Restaurant (Normal Thali Rs. 220, Special Thali Rs. 290).
Moreover, most Assamese people preferred fish, rice, and boiled food, but there are many various varieties of food you can try in our North East tour package from Guwahati.

If you are looking to explore one of the most beautiful UNESCO World Heritage Sites, you must visit Kaziranga National Park. Surrounded by astonishing green scenery, this is the best place to spot some of the antique and endangered animal species including One Horn Rhino, Water Buffalo, wild dog, deer, and birds. A jungle safari in Kaziranga will bring you closer to the beauty of nature. Hence, Kaziranga is a must-visit national park in India.
The perfect time to visit Nohkalikai Falls depends on you and what you want to see. Like in May to September or the Monsoon season is the perfect time if you want to glimpse the falls in their full glory too, and to have the best trekking view of the fall you must choose the time between October to January.
The scenic Cherrapunjee will offer you lots of activities to do in your North East package tour;
● Photography, capture the magnificent beauty of Cherrapunjee in the lenses.
● Bird Watching
● Chatting treks across the beautiful streets of Cherrapunjee.
● Purchasing handmade items and bamboo items at Cherrapunjee.
● Tantalizing the taste buds with the local foods of Cherrapunjee.
● Hiking the Double Decker Root Bridge.

No, you don't need to carry a permit to visit Cherrapunjee as an Indian citizen but bringing a valid ID card is mandatory while visiting this State.
The perfect timing for having an Assam tour is October to mid-March and also for Meghalaya October to May is best but during March, April, and May temperature is competitively hot i.e. above 30 C. Here's the name of the months and a list of the tribal festivals to enjoy at that time in the following;
● Khasi Festival - Celebrated in April
● Mayantia Festival - 3 days in July
● Garo Festival - Celebrated in November
● Autumn Festival - Celebrated in October

According to our North East tour operators, to have the full packed North East tour by covering all the valuable North East travel destinations at least 10 to 15 days are required.
However, our North East packages from guwahati and other referable packages like North East family tour packages, North East Holiday Packages, and North East Safari Tour Package are perfect to give you the best North East travel plan, which will remain in our hearts forever.

NORTH EAST TOUR BOOKING ONLINE AND CANCELLATION POLICY:
→ North East package tour booking Would be Intimated through corporated emailm id.
→ Company Service Voucher Would be Issued to the Guest aginst the same.
→ 50% advance payment (100% for super peak time) is required to get the confirmation.
→ 100% Payment to be made before 3 days of Check In.
→ For any cancellation irrespective of no of days 15% charges will be levied.
→ 25% of the Package amount to be levied if cancelled between 20- 07 days before Check in.
→ 50% of the package amount to be levied If Cancelled between 07 – 03 days of Check in.
→ No Refund incase Of No show /Short Stay/or if Cancelled between 72 Hrs of Check in.
→ 100% cancellation Charge once Booking is made for Super Peak Season.
NORTH EAST PACKAGE REVIEWS
4.9
Stars Rating, out of
5
based on
148
Reviews
Paresh Kumar

Jan 19, 2021

We had a blast on our 20 days North East package tour! From Bhalukpong to Shillong we have visited all the amazing places. Most of the tour was filled with joy and excitement but I had the most fun during the Kaziranga Elephant And jungle safari. It was terrific!

This summer I booked our North East travel package with Tourist Hub at a friend's suggestion and we had an amazing tour! Our tour guide and services also were so good they guided us at every point. Though travelling with older parents might get difficult sometimes, with the guide we always felt comfortable and my parents also had a lot of fun during the Jungle Safari! We'll always be grateful to the Tourist Hub India

Punit Jaswal

April 03, 2021

Visiting North East India with my full group of friends was a dream of mine for years and for Tourist hub India that dream had been fulfilled beautifully. In my 20 days of North East tour package from Guwahati, I had excellent services and guidance and best Tourism in Northeast India. It's was felt like a walk through history. As I'm a hard food lover the food of the Shillong, Meghalaya, and Arunachal Pradesh satisfied my soul the most. It was an unforgettable journey!

In the North East tour and travels from Kolkata, one thing that you did not wish for is bad weather, But despite bad weather, our journey was a total time and money worthy one. Our tour guide had to keep connected and guided us in every step of our journey. My daughter has an immense love for elephants and wants to ride them Thanks to Tourist Hub I got to fulfil that!

Suniti Sinha

July 15, 2021

I love travelling and had a huge love for visiting different places and getting close to their culture, and to explore the north this summer holiday I booked my North East tour package with Tourist Hub. I got excellent service and visited the best of the best North East travel destinations. I gotta say that they have the best North East tour operators, my whole twenty-day itinerary was full-packed with adventure. Thank you Tourist Hub India!