BOOK RAJASTHAN PACKAGE TOUR - BEST DEAL 2023
2N/3D

Pickup & Drop:Science City

Start From 15500/-PP
Looking for a memorable trip and planning a family tour can be both exciting and confusing. But worry no more! This winter, surprise your loved ones with an adventurous destination that promises thrills at every turn. Wondering where to go? Look no further! Book an unforgettable Rajasthan Package Tour with Tourist Hub India, the most reliable and affordable Rajasthan tour operator.

As the top Rajasthan travel agency, Tourist Hub India offers unparalleled expertise in the region, including the best accommodations and allied services. This specialist in customized Rajasthan tour package caters to discerning tourists from all over India, providing top-notch facilities and delectable food throughout the trip. In a short span of time, Tourist Hub India has earned a stellar reputation as the most trusted brand for Rajasthan tour package. Let's explore the wonders of Rajasthan together.

Rajasthan is a diverse and culturally rich state in India known for its majestic forts, opulent palaces, vibrant festivals, and breathtaking landscapes. A Rajasthan tour offers a blend of history, architecture, and culture.

Now is the perfect time to book your Rajasthan tour with Tourist Hub India. Here's a glimpse of what you can expect to experience on a Rajasthan tour:

You will be also able to explore various amazing places of India throung our customised packages like North Sikkim Tour 2n/3d, Pelling Ravangla Gangtok tour from Bagdogra,Sundarban 2N/3D Tour, Silk Route Package Tour, North East Tour Package, Leh Ladakh Package Tour, Dooars Package Tour, Andaman Package Tour, North East Package Tour, Kashmir Package Tour and many more with your friends and family.


RAJASTHAN PACKAGE TOUR PRICE
| Rajasthan PACKAGES | TOUR DURATION | ROOM CATEGORY | TOUR PRICE |
| --- | --- | --- | --- |
| Rajasthan tour 5 night 6 days | 5N/6D | DELUXE | 4500/5000/6500 |
| Rajasthan tour 6 night 7 days | 6N/7D | DELUXE | 5000/6000/7000 |
| Rajasthan tour 8 night 9 days | 8N/9D | DELUXE | 4500/5500/6500 |
| Rajasthan tour 4 night 5 days | 4N/5D | DELUXE | 5000/6000/7000 |
| Rajasthan tour 10 night 11 days | 10N11D | DELUXE | 3500/5000 |


The Rajasthan Tour Cost depends on various factors like :

● Itinerary you'll choose
● Accomodation you'll be comfortable
● Vehicles you'll prefer
● Activities you'll do
● Duration of your tour
● No of Travellers


Any Rajasthan tour cost can vary depending on several factors such as the duration of the trip, the type of accommodation you choose, the mode of transportation (AC/Non-AC), the activities included, and the season of travel. However, here we are providing an estimate of the best Rajasthan Tour Package Cost.



RAJASTHAN STANDARD PACKAGE COST
Rajasthan Standard Package Cost Starts from around INR 14,500/- to INR 5,000/- Per Person. It includes :

Accommodation in basic Resorts or Lodges

Shared Transportation

Boat Safari and basic Sightseeing

Meals Included


RAJASTHAN DELUXE PACKAGE COST
Rajasthan Deluxe Package Cost Starts from around INR 6,000/- to INR 17,500/- Per Person. It includes :

Accommodation in comfortable Resorts or Hotels

Private Transportation

Boat Safari and Sightseeing

Meals Included


RAJASTHAN LUXURY PACKAGE COST
Rajasthan Luxury Package Cost Starts from around INR 28,500/- to INR 32,500/- Per Person. It includes :

Accommodation in Luxury Resorts or Hotels

Private Transportation

Boat Safari and exclusive experiences

Meals Included


It is always recommended to compare different Rajasthan Tour Operators and their respective packages and read the inclusions and others offerings carefully to get the best value for money. Rajasthan Tour Cost can also be higher during peak season, so it's better to book your Rajasthan Tour Package well in advance to avoid any last-minute price hikes or non-availability of room in Rajasthans.


RAJASTHAN TOUR: AN ENTHRALLING EXPERIENCE OF DESERT
Our state, West Bengal offers a wide range of diverse destinations which includes hills, rivers, mountain, forest, sea-beach and other natural wonders. One of the wonders of West Bengal is the largest mangrove forest of the Sunderban which is primarily inhabitant by world famous Royal Bengal Tiger along with other wild animals, innumerable birds and reptiles. A Rajasthan Package Tour itself is an adventure covering most of the attractions of the place and surrounding areas. Cruising gently through the gigantic Matla River with the scenic beauty of the green mangrove forest on both side is an amazing view and life long experience. Indeed Rajasthan is beautiful as its name suggest, "Sundar" – means Beautiful and "ban" – means forest.

Rajasthan is one of the most beautiful and famous offbeat tourist destinations in West Bengal. Tourists from all over the world visit this magnificent place to experience rich wildlife and mysterious mangrove. Whether you are naturalist, a wildlife lover or a wildlife photographer, any Rajasthan tour can be rewarding for all. Here travellers can experience wildlife through endless waterways, lush green mangrove forest and new varieties of flora and fauna. After all it's all away from concrete jungle and our day to day 10am to 6am monotonous schedule.

Come, it is time you explore the Rajasthan tour with Tourist Hub India - One of the best Rajasthan Package Tour Operator in Kolkata. Through our Rajasthan Tour, we will take you to an amazing adventure in a land of mystery with serenity. Rajasthan is a place where you can lost yourself among the endless horizon where river meets with sea and you can feel the sensational vibe of nature. Book your Rajasthan package with us and experience the richness of our service. We are confident, you will love the Rajasthan experience with us. No more wasting time.



RAJASTHAN TOUR ACTIVITIES
Our affordable and pocket friendly budget Rajasthan tour packages starts from from jaipur or judpur, Our exclusive Rajasthan tour includes pick up and drop with dedicated car, with modern amenities, sightseeing, lip smacking foods, group activities, bonfire, folk song & dance, village life exploration, etc. Stay at our exclusive eco hotels/resorts and enjoy one of the pearls of the Rajasthan with all modern accommodation and amenities. We will make your Rajasthan trip memorable and comfortable. Trust and safety is our top priority.



WHAT OUR GUESTS SAYS ABOUT US
Any Rajasthan tour gives maximum refreshment in the winter but it can rejuvenate the mind in all seasons also. To make your Rajasthan trip as experience of a lifetime, we have been serving our customers with utmost diligence since 2010 with our super experienced we gained throughout this entire Rajasthan Journey. Our customers always are very happy with our dedicated service and heart-warming behaviour towards them for such a comfortable and enjoyable Rajasthan tour at low price. Our Rajasthan tour package is the best to all because of pocket friendly within their budget. Our customers say that we are the best Rajasthan Tour guide. We make Rajasthan tour itinerary in such a way where you can avail the best value. To make your Rajasthan tour memorable we have developed many kinds of Rajasthan packages. The best part of our Rajasthan tour is the customization. We cater everything you need during the trip to make it a lifetime experience. This is why everybody looks for Tourist Hub India - the best expert for Rajasthan Package Tour.


HOW TO TRAVEL RAJASTHAN?
Traveling in Rajasthan offers a diverse range of transportation options to suit various preferences and budgets. Here are the common ways to explore this vibrant state:
BY Air : Rajasthan has major airports in cities like Jaipur, Udaipur, Jodhpur, and Jaisalmer. If you're arriving from a distant location, taking a flight can save time. Domestic flights connect these cities with major Indian cities.


BY BUS: Rajasthan's well-maintained road network allows for picturesque road trips. You can hire a private cab, opt for self-drive, or use intercity buses. The Golden Quadrilateral and the Rajasthan State Highway network provide smooth connectivity.


BY TRAINIndian Railways connects Rajasthan's cities and towns, making train travel a popular and economical option. Major railway stations include Jaipur, Udaipur, Jodhpur, Ajmer, and Bikaner. Overnight sleeper trains offer a comfortable way to cover longer distances.


METRO AND PUBLIC TRANSPORT:Jaipur has a metro system, offering convenient intra-city travel. Auto-rickshaws and cycle rickshaws are common for shorter distances within cities.



WHEN IS THE BEST TIME TO BOOK RAJASTHAN PACKAGE TOUR?
The best time for a Rajasthan tour largely depends on the weather and the experiences you're seeking. Rajasthan experiences extreme temperatures, so choosing the right time can greatly enhance your travel experience. Here are the two main seasons to consider:

WINTER [END OF OCTOBER TO FEBRUARY]

This is the most popular and recommended time to visit Rajasthan. The weather is pleasant, with daytime temperatures ranging from 20°C to 30°C (68°F to 86°F), and cooler nights. It's perfect for exploring cities, forts, and engaging in outdoor activities.

Key Highlights:
Festivals: Rajasthan hosts numerous festivals during this time, including Pushkar Camel Fair, Diwali, and Desert Festival.
Sightseeing: You can comfortably explore attractions without the extreme heat of summer.
Wildlife Safari: Ranthambore National Park is open, offering the best chances to spot tigers.

SUMMER [END OF MARCH TO END OF JUNE]

Rajasthan experiences scorching heat during these months, with temperatures soaring above 40°C (104°F) and sometimes even touching 45°C (113°F). It's not recommended for outdoor activities due to the extreme heat.

Key Considerations:
Heat: The intense heat can be challenging for sightseeing and outdoor activities.
Desert Experience: If you're keen on experiencing the Thar Desert's unique ambiance, consider desert camping during cooler evenings.

MONSOON [START OF JULY TO END OF SEPT]

Rajasthan receives minimal rainfall, but the monsoon does bring some relief from the heat. The landscape turns lush, and this season can offer a different perspective of the state's beauty.

Key Highlights:
Nature: The countryside becomes greener, and landscapes are refreshed.
Lesser Crowds: Tourist crowds are significantly reduced, making it an ideal time for those seeking a quieter experience.
Considering these factors, the best time for a Rajasthan tour is typically during the winter season, from October to March. However, if you're willing to tolerate higher temperatures and want to experience the unique desert ambiance, you can consider a visit during the shoulder months of September and October or April. Plan your Rajasthan tour based on the experiences you want to enjoy, and keep in mind the weather conditions to ensure a comfortable and memorable journey.
MONTH WISE AVG. TEMPERATURE IN RAJASTHAN
| TRAVEL MONTHS | MIN TEMP | MAX TEMP |
| --- | --- | --- |
| January | 08°C | 15°C |
| February | 12°C | 20°C |
| March | 18°C | 28°C |
| April | 25°C | 35°C |
| May | 28°C | 38°C |
| June | 28°C | 36°C |
| July | 26°C | 32°C |
| August | 26°C | 32°C |
| September | 25°C | 31°C |
| October | 25°C | 30°C |
| November | 22°C | 26°C |
| December | 18°C | 22°C |
DAY WISE RAJASTHAN TOUR PLAN
The first day of your Rajasthan Package Tour will begin with pick up from Jodhpur Station during the early morning and connect with your designated driver there. Proceed to your hotel and complete the check-in process, allowing yourself to rest and rejuvenate. After enjoying your breakfast around 10 AM, embark on your exploration of the captivating city of Jodhpur.

Jodhpur stands as a remarkable bastion of Marwar's cultural heritage, proudly preserving its age-old traditions through attire, cuisine, and way of life. Often referred to as the "City of the Sun God," it emanates a unique charm. The dwellings dotting the cityscape are predominantly adorned in shades of blue, bestowing merit to its renowned moniker – 'The Blue City.' This azure hue graces the inner recesses of the city's homes as well, creating a truly enchanting spectacle.
Sightseeing on Day 1
Mehrangarh Fort- Encompassing a sprawling area of 1,200 acres (486 hectares) within Jodhpur, the Mehrangarh Fort reigns majestically. Perched atop a hill, it rises approximately 122 meters above the surrounding terrain. Its foundation dates back to 1459, attributed to the Rajput ruler RAO JODHA, though the predominant architecture we behold today emerged during the 17th century.

Within its formidable confines, numerous palatial structures beckon, each bearing intricate carvings and expansive courtyards that narrate tales of opulence. Additionally, a museum resides within, safeguarding an array of cherished relics that offer glimpses into the past. A serpentine road winds its way, linking the fortress with the city below, forging a tangible connection between history and the present.

The second gate, bearing the scars of cannonball impacts from historical sieges launched by the forces of Jaipur, stands as a testament to the fort's storied past.

UMMAID BHAVAN PALACE Constructed between 1928 and 1943, the Umaid Bhawan Palace stands as a resplendent testament to Rajasthan's rich heritage, embodying the essence of a rejuvenated Jodhpur. Serving as the abode of the former Jodhpur royal family, the palace now ranks as the sixth-largest private residence globally. A unique parallel can be drawn between this palace and the iconic Taj Mahal in Agra—both structures share the use of palm court marble in their construction.
Perched regally atop Chittar Hill, which commands the highest elevation in Jodhpur, the Umaid Bhawan Palace commands awe-inspiring vistas. From its vantage point, it offers panoramic views that encompass the historic Blue City, expansive sand dunes, and the enduring Mehrangarh Fort that graces the horizon.
JASWANT THADA is a true architectural masterpiece adorned with meticulous carvings, the Jaswant Thada stands as a testament to artistry. Renowned as a peerless cenotaph crafted from exquisite white marble, it was erected in 1899 by Maharaja Sardar Singh in honor of his father, Maharaja Jaswant Singh II. Often dubbed the "Taj Mahal of Marwar," this white marble marvel from Rajasthan captures the imagination with its ethereal beauty.


After all of these fun activities, you'll have your lip-smacking dinner and get to sleep with the excitement of your next day's journey of your Rajasthan tour package.


Stay at Jodhpur
Trip time: 8am - 9.30pm
Post breakfast check out from hotel and start your journey towards your next desnaon "JAISALMER, THE GOLDEN CITY" of Rajasthan.

KULDHARA VILLAGE Kuldhara stands as a deserted village nestled within the Jaisalmer district of Rajasthan, India. Its origins trace back to the 13th century when it flourished as a thriving settlement inhabited by the Paliwal Brahmins. However, the village's fortunes took an unforeseen turn, leading to its abandonment during the early 19th century. The reasons behind this abandonment remain shrouded in mystery.

Over the passage of time, Kuldhara's story took on an eerie hue, gradually earning it a reputation as a place of ghostly intrigue. Recognizing its potential as a tourist destination, the Government of Rajasthan made the decision to transform it into a tourist attraction during the 2010s.

Reach JAISALMER by evening & check in at the hotel. Evening is for leisure. Dinner will be served at the hotel.


Overnight at JAISALMER
Trip time: 8am - 4.30pm
The next day Sun will wake you up with its mesmerizing view from your hotel room. The warmth of the morning Tea/Coffee will give you more excitement for today's journey. After Post breakfast check out from the hotel and start your JAISALMER CITY TOUR. JALSALMER FORT Popularly recognized as the "Golden Fort of Rajasthan," this monumental structure was brought to life by Raja Jaisal, a distinguished Rajput ruler, in the year 1156 AD. This imposing fortress commands a place among the world's most expansive strongholds. Crafted from a captivating blend of golden and yellow sandstone, it presents a spellbinding appearance that seems almost enchanting in your Rajasthan Package
Emerging from the desert landscape like a mirage, the fort materializes as a breathtaking spectacle, particularly when illuminated at night, its 99 turrets casting an otherworldly glow. Standing tall and resolute, the fort stands as a resplendent testament to the enchanting artistry of Rajasthani architecture, proudly showcasing its spellbinding allure.
GADISAR LAKE Situated just a kilometer from the fort, Gadisar Lake was originally brought to life by the inaugural sovereign of the region, Raja Rawal Jaisal. Subsequently, in the year 1367 AD, Maharawal Garsi undertook its reconstruction. This reservoir held profound significance for the denizens of the desert city, serving as their essential water source. Along the shores of this lake, an array of temples, sacred shrines, and resting spots come into view, forming a harmonious tapestry.
The entrance, an exemplar of artful craftsmanship, hewn from yellow sandstone, stands as a portal to enchantment. This captivating gateway offers a truly awe-inspiring vista, drawing visitors into the realm of Gadisar Lake.
Patwon-Ki-Haveli Nestled within the heart of the city, this distinguished edifice stands as a creation of prominence. It was commissioned by the renowned merchant Guman Chand and his offspring. This expansive five-story structure unfolds with grace, offering five grand suites adorned with intricate detailing. The sweeping corridors and adorned walls stand as living embodiments of the artistic mastery of the era. Every facet of the construction bears the signature of yellow sandstone, weaving a harmonious visual tapestry.
The monument's magnificence and architectural finesse bestow immense significance upon the cultural legacy of the city. Among the quintet of havelis, one has been thoughtfully transformed into a museum. Meanwhile, the third haveli stands as a repository of the crafts and creations crafted by local artisans from times gone by.

After enjoying your lunch, venture forth to partake in a Desert Safari at the captivating Sand Dunes. To immerse yourself in the desert's essence, the Sunset Desert Safari is a must. The Sand Dunes serve as the perfect starting point for your desert adventure. Embark on a camel-backed safari that will lead you through undulating dunes, allowing you to witness the mesmerizing sunset over the arid expanse. If you prefer, jeep safaris are also available for your exploration.
The months of February and March herald the Desert Festival, a vibrant celebration that you wouldn't want to miss. This cultural extravaganza features folk dances, camel races, and various other events. It adds a whole new dimension to your desert experience. Following your safari, journey to your designated haven for the day, THE DESERT CAMPS, where you will be treated to an enchanting night in the desert. Upon checking in, take a moment to settle in. The evening invites relaxation and leisure, allowing you to unwind in this magical setting.

Overnight at Jaisalmer
Trip time: 8am - 4.30pm
Following a satisfying breakfast, complete your check-out procedure at the hotel and commence your expedition toward the charming destination of MOUNT-ABU. This serene hill station is nestled in the western reaches of Rajasthan, adjacent to the Gujarat border. Perched atop a lofty rocky plateau within the Aravalli Range, it finds itself cocooned by lush forests, providing respite from the heat. The elevated terrain grants both a temperate climate and panoramic vistas that stretch over the arid plains below.
As the sun retreats, you'll arrive at Mount Abu. Once there, make your way to your chosen lodgings and proceed with the check-in process. The evening is gracefully designated for leisure, allowing you to unwind at your own pace. For dinner, a delectable meal awaits you within the comforts of the hotel.

Overnight at Mount-Abu
Trip time: 8am - 4.30pm
The next day Sun will wake you up with its mesmerizing view from your hotel room. The warmth of the morning Tea/Coffee will give you more excitement for today's journey. After freshening up you'll starts for Mount-Abu sightseeing.
THE DILWARA TEMPLE stands gracefully approximately 3 kilometers away from Mount Abu, serving as a sanctuary of profound significance for the Jain community. Conceived by Vastupal Tejpal and erected by Vimal Shah during the span of the 11th to the 13th century, this temple stands as a beacon of Jain devotion. Its hallmark lies in the lavish application of marble and the intricate artistry that adorns every nook and cranny which is also a attraction of your Rajasthan Package tour
While the exterior of the Dilwara Temple exudes an air of modesty, crossing its threshold ushers you into a world of awe-inspiring wonder. The interiors unveil a breathtaking tapestry of designs and motifs etched onto ceilings, walls, arches, and pillars. This symphony of craftsmanship evokes a sense of sheer admiration. Amid its understated elegance, the Dilwara Temple serves as a conduit to convey the fundamental tenets and values of Jainism.
Universal Peace Hall also recognized as Om Shan Bhavan, serves as the principal gathering space of the Brahma Kumari Spiritual University, completed in 1983. This tranquil ivory-hued edifice boasts a seating capacity of 5,000 individuals and is equipped with a unique feature – simultaneous translation in 16 languages during diverse occasions. Acknowledged as a public tourist destination, the Universal Peace Hall attracts over 8,000 visitors each day, offering a space for reflection and connection.

Nakki Lake affectionately referred to as Nakki Jheel by the locals, emerges as a haven for enthusiasts of nature's wonders. Situated amidst breathtaking natural beauty, this lake stands as a true jewel in the crown of Mount Abu. A distinctive distinction accompanies Nakki Lake—it claims the honor of being India's inaugural man-made lake, boasting a staggering depth of around 11,000 meters and a width spanning a quarter of a mile.
Nestled at the heart of the hill station, this captivating waterbody finds itself embraced by a panorama of luxuriant verdure, majestic mountains, and uniquely sculpted rocks. An idyllic haven for nature aficionados and avid photographers alike, Nakki Lake's allure is undeniable. Notably, Mahatma Gandhi's ashes found their final resting place here on the 12th of February, 1948, and the consequential Gandhi Ghat graces its vicinity.
Adding to the enchantment, a hill adjacent to the lake hosts the famed Toad Rock, its silhouette resembling a poised amphibian about to embark on a leap into the waters. On a parallel note, an inviting path flanking Nakki Lake leads the way to the captivating Sunset Point, where breathtaking vistas of dusk await.

After your explorations, return to the hotel to unwind. The evening offers a tranquil interlude for relaxation and leisure. A delicious dinner awaits, served within the comfort of the hotel.

Overnight at Mount-Abu
Trip time: 8am - 4.30pm
After enjoying your morning meal, complete your hotel check-out and embark on your journey towards Udaipur, renowned as "The City of Lakes."

HALDIGHATI- iNestled approximately an hour's drive away from Udaipur, this scenic mountain pass holds historical significance. Haldighati's notoriety arises from its association with numerous battles, most notably the epochal conflict of 1576 between Rana Pratap Singh of Mewar and the formidable army of Mughal Emperor Akbar. A poignant element of this site is the cenotaph, or "chhatri" in Hindi, erected where the gallant steed of Maharana Pratap, Chetak, took his final breath. This chhatri, crafted from pristine white marble, stands as a tribute to honor and commemorate the exceptional contribution of India's swiftest horse.

While here, a visit to the Maharana Pratap National Memorial beckons. Conceived in 1997 under the auspices of the Government of India, this memorial features a remarkable bronze statue depicting Maharana Pratap astride his loyal equine companion. Furthermore, a museum dedicated to Maharana Pratap's legacy also graces the grounds, with its doors opened to the public in 2003.


Upon arrival in Udaipur, complete your check-in process at the hotel. The evening invites relaxation and leisure, allowing you to unwind at your own pace. Later, enjoy a delightful dinner served within the comforts of the hotel.

Stay at Resort/Hotel
Trip time: 8am - 4.30pm
After your morning meal, commence your exploration of the captivating city of Udaipur.

LAKE PICHOLA is among Udaipur's vast and ancient water bodies, Lake Pichola holds a prominent position. Created in the year 1362, this expansive freshwater lake is an impressive testament to human ingenuity. It derives its name from the nearby Picholi village. Part of a network of interconnected lakes, Lake Pichola has evolved over the centuries, gracefully embracing the renowned city of Udaipur.

UDAIPUR CITY PALACEis among the architectural marvels gracing Rajasthan, the City Palace in Udaipur emerges as a crown jewel. This expansive palace complex claims the distinction of being the largest within the state. A prime attraction on the Udaipur itinerary, the City Palace stands regally on the eastern shores of Lake Pichola. Embraced by the majestic Aravali mountain range, the palace's natural setting enhances its allure, providing breathtaking vistas of the surroundings.
The origins of the City Palace align with the very establishment of Udaipur by Maharana Udai Singh II. Over the course of the ensuing 400 years, this regal abode took shape under the successive reigns of the Maharanas. Serving as both residence and administrative center, the palace played a pivotal role in shaping the destiny of the kingdom. In essence, the City Palace complex stands as a living testament to the historical significance of Udaipur and its illustrious rulers.
SAJJANGARH PALACE has perched majestically upon an Aravalli hilltop, the Sajjangarh Fort stands as a testament to grandeur and splendor. Dating back to 1884, this resplendent palace bears the name of Maharana Sajjan Singh, signifying his regal abode. From its elevated vantage point, the palace offers a captivating panorama that encompasses the serene Lake Fateh Sagar, the iconic City Palace, and the ancestral residence of the King, Chiorgarh.

FATEH SAGAR LAKE is nestled at an awe-inspiring locale that seamlessly combines the elements of hills, water, and lush flora, Lake Fatehsagar stands as a marvel. Positioned to the north of Lake Pichola, it finds itself in the enchanting embrace of Mo Magri Hill. This lake, the second-largest man-made reservoir, holds a unique distinction. With the towering Aravalli hills embracing three sides and the Pratap Memorial gracing the northern expanse, Lake Fatehsagar stands as an emblem of Udaipur's pride.

Vintage Car Museum is Amidst the grandeur of Udaipur's renowned forts, palaces, and pristine lakes, the Vintage Car Museum offers a captivating departure. This museum houses a captivating assortment of vintage automobile models that once graced the roads under the banner of the Mewar dynasty of Udaipur. This very dynasty stood as one of the most opulent among the Rajput rulers, characterized by lavish and extravagant lifestyles.
As you step into the Vintage Car Museum, a journey through time unveils the opulence of the Mewar family through their prized possessions. Among these treasures, the Rolls Royce and Mercedes models stand as epitomes of luxury, each painstakingly crafted and owned by the royal members. These meticulously preserved vehicles offer a vivid glimpse into the regal elegance that defined the Mewar dynasty's legacy.

Following your sightseeing endeavors, return to the hotel to unwind. The evening graciously presents a span of leisure, allowing you to relax at your own pace. A delectable dinner awaits, served within the comforts of the hotel.

Overnight at Udaipur.
Trip time: 8am - 4.30pm
After enjoying your morning breakfast, complete your hotel check-out and embark on your journey towards the captivating destination of Pushkar. Enroute visit the famous place CHITTORGARH FORT.

CHITTORGARH FORT Erected by local Maurya rulers during the 7th century A.D., the Chittorgarh Fort in Rajasthan stands as an exemplar of India's vast and rich history. This formidable stronghold, commonly referred to as Chittor, ranks among the largest forts on the Indian subcontinent. Perched resplendently atop a hill towering 590 feet high, it sprawls across a magnificent expanse of 692 acres. This stronghold serves as an iconic embodiment of the distinguished Rajput architectural style.

The grandeur of the fort is further enhanced by a series of gateways, each crafted by successive rulers of the Maurya lineage. Chittorgarh Fort, once the capital of Mewar, now rests within the bounds of the city bearing its name. It stands as a living testament to the valor and legacy of Rajasthan's vibrant history.


Arrive in Pushkar during the evening hours. Complete your check-in procedure at the hotel and take a moment to settle in. The remaining time is yours to enjoy at your own pace. Later, savor a delicious dinner served within the comfort of the hotel.


Overnight at Pushkar
Trip time: 8am - 4.30pm
Following your breakfast, set forth on your journey towards the enchanting "JAIPUR - THE PINK CITY." Along the way, indulge in a stopover at -

City Palace, Jaipur The City Palace, an imposing masterpiece, resides at the very heart of Jaipur, inviting you to journey into an era of resplendent royal opulence. This architectural marvel seamlessly fuses the splendors of Rajput and Mughal design, creating a mesmerizing landmark that stands as an essential Jaipur experience. Upon stepping through its majestic gates, you are transported into a realm of yesteryears, characterized by expansive halls, enchanting courtyards, manicured gardens, regal abodes, and captivating art galleries.

Inside, a captivating museum unveils itself, offering a window into the regal way of life. Within its halls, you can witness the opulent attire that once adorned the esteemed figures of Maharaja Sawai Man Singh II and Maharaja Sawai Madho Singh I, thoughtfully preserved for posterity. The City Palace stands as a testament to the timeless allure of royalty and invites you to immerse yourself in its grandeur.

Hawa Mahal, Jaipurthe Pink City is mentioned, the iconic Hawa Mahal immediately springs to mind, doesn't it? This architectural gem, a vision in pink, was commissioned by Maharaja Sawai Pratap Singh in the year 1799. What sets this five-story wonder apart is its intricate lattice of 953 miniature windows. This pyramidal marvel's hallmark feature allows gentle breezes to gracefully enter the inner sanctums, bestowing a cooling respite even amidst scorching temperatures.

As you ascend its heights, a captivating vista unfolds, revealing spectacular panoramas that encompass the Jantar Mantar and the City Palace. The Hawa Mahal's presence remains indelibly etched in the tapestry of Jaipur, symbolizing both regal elegance and ingenious architectural ingenuity. this is one of the best attraction of Rajasthan Tour

Jantar Mantar, Jaipur - Have you ever pondered upon the methods people of yesteryears employed to measure time, track celestial movements, and forecast eclipses? The intriguing world of Jantar Mantar unravels these mysteries. This astronomical observatory, established in 1734, stands as a testament to Maharaja Sawai Jai Singh II's visionary intellect. Within its precincts, an ensemble of nineteen architecturally intricate astronomical instruments beckons.

Among these wonders, the stone sundial commands attention, earning its distinction as the world's largest of its kind. This site stands as a haven for aficionados of astronomy, offering a captivating journey into the ancient art of celestial observation. Recognized for its historical and scientific significance, Jantar Mantar has been designated a UNESCO World Heritage Site, immortalizing its contributions to humanity's understanding of the cosmos.

Albert Hall Museum, Jaipur - Embracing the distinction of being Rajasthan's oldest museum, the Albert Hall Museum serves as a captivating portal to Jaipur's captivating history and rich heritage. The hall itself stands as an imposing architectural marvel, a prelude to the treasures held within. Functioning as the esteemed State Museum of Rajasthan, this institution houses a captivating array of artifacts, spanning sculptures, paintings, intricate crystal creations, ivory artifacts, resplendent carpets, exquisite metalwork, and dazzling jewelry..

Among its treasures, a spotlight shines on the captivating exhibit of an Egyptian mummy, a rare gem among the few preserved in India. Albert Hall Museum stands as more than a repository of artifacts; it's a time capsule, allowing visitors to traverse through the corridors of time and experience Jaipur's vibrant past and cultural tapestry.

Birla Mandir, Jaipur - The Birla Mandir in Jaipur presents an exquisite harmony of grandeur and serenity. This temple stands as a dedication to Goddess Lakshmi and Lord Vishnu, earning it the alternate name of Laxmi Narayan Temple. Nestled against the verdant embrace of Mo Dungri Hill, the resplendent white marble façade unveils a scene of breathtaking beauty. The temple's architectural opulence is a visual delight in itself, offering a feast for the eyes.

As one of the most illustrious temples in Jaipur, Birla Mandir graces its walls with intricate scenes and verses from the Bhagavad Gita. This sacred abode stands as a place of spiritual solace, as well as a testament to the rich heritage of devotion and craftsmanship in Jaipur. Within its confines, tranquility and splendor seamlessly converge, inviting visitors to experience a sense of reverence and awe.


Arrive in Jaipur during the evening hours. Complete your check-in procedure at the hotel and take a moment to settle in. The remaining time is yours to enjoy at your own pace. Later, savor a delicious dinner served within the comfort of the hotel.

Over night stay at Jaipur
Trip time: 8am - 4.30pm
What better way to immerse yourself in the splendor of Jaipur than by exploring its renowned forts? With this in mind, we've meticulously designed the second leg of your 2-day Jaipur itinerary, focusing on the city's magnificent forts and a selection of other essential attractions. Here's our curated selection for your Day 2 journey through Jaipur:

Amer Fort, Jaipur Embarking on a sightseeing escapade through Jaipur would remain incomplete without a rendezvous with the resplendent Amer Fort and Palace. Rising as the epitome of opulence among the city's forts, Amer Fort stands as a testament to architectural brilliance and regal magnificence. The palace ensconced within the fort unfurls across four distinctive levels.
At the heart of the fort, the enchanting Sheesh Mahal, or the Palace of Mirrors, claims its rightful place among the fort's treasures. This remarkable edifice dazzles with a mosaic of glimmering mirrors and intricate glass inlays that adorn the walls and ceiling. Moreover, for a memorable experience, you have the option to indulge in an elephant ride within the fort's confines or peruse a collection of unique souvenirs. Amer Fort captures the essence of Rajasthan's heritage, inviting you to relish its grandeur and immerse yourself in its storied past.
Jaigarh Fort, JaipurResting atop the captivating Cheel ka Teela, also known as the Hill of Eagles, Jaigarh Fort emerges as a captivating destination within Jaipur. This majestic stronghold reveals a trove of captivating features, making it a truly captivating stop. The fort's resplendent expanse encompasses opulent palaces adorned with grand courtrooms, triple-arch gateways, serene temples, lush gardens, an armory chamber, and a central watchtower that offers panoramic vistas of the surrounding landscape.
The pièce de résistance of this grand fortress is the illustrious Jaivana cannon. Once acclaimed as the world's largest wheeled cannon, it continues to stand with pride within the Jaigarh Fort, a testament to the might and engineering prowess of bygone times. Exploring the Jaigarh Fort unveils a realm of history, architecture, and panoramic views, allowing you to soak in the splendors of Rajasthan's regal heritage which is one of the best attraction in your Rajasthan tour package
Nahargarh Fort, Jaipur - For nearly three centuries, Nahargarh Fort has stood as a vigilant sentinel over the city of Jaipur. A vital component of Jaipur's formidable defense network, it stood in unison with the Jaigarh Fort and the Amer Fort. This fort, a favored retreat of the royal family of Jaipur, exudes historical allure and significance. The fortifications of Nahargarh Fort seamlessly extended those of the Jaigarh Fort, effectively connecting the two bastions.
Exploring Nahargarh Fort not only uncovers its rich history but also grants access to captivating views that encompass the sprawling cityscape of Jaipur. This fortress is more than just stone and history; it's a living testament to Rajasthan's regal past and the strategic importance it held in safeguarding its treasures.
Jal Mahal, Jaipur - Residing as a magnificent five-storied palace gracefully poised amidst the waters of Man Sagar Lake, the Jal Mahal stands as a true marvel in the heart of Jaipur. However, as the lake fills, four of these stories remain submerged beneath the waters, leaving only the uppermost level visible. This unique feature imparts the illusion that the palace serenely floats upon the lake's surface, lending it an air of ethereal beauty.
Characterized by quintessential Rajput architecture, the palace was once a favored duck-hunting retreat for the kings of Jaipur. While present access to Jal Mahal may be restricted for visitors, its allure remains undiminished. Embarking on a leisurely boat ride across the tranquil waters of Man Sagar Lake affords an up-close view of this architectural gem. The Jal Mahal embodies the allure of Jaipur, inviting you to revel in its captivating beauty and the history it holds within its walls.

The evening is reserved for relaxation and leisure. At Night after having dinner on this journey, you'll have a comfortable sleep.

Overnight at JAIPUR
Trip time: 8am - 4.30pm
The last of your journey will be inaugurated by the rising sun of the morning. After enjoying your breakfast, proceed with the check-out process from the hotel. Make your way to Jaipur station for your return train or flight journey.

RAJASTHAN PACKAGE TOUR INCLUSIONS
→ Hotel Accommodation..
→ All Sightseeing and transfers by Air-Conditioned Car.
→ Driver Allowance, Fuel, Parking Charges, Toll and Interstate Taxes.
→ Pickup & Drop Up from Airport/Station
→ 24 X 7 Excutive Support


RAJASTHAN TOUR PACKAGES EXCLUSIONS
→ The things not mentioned in the inclusion section
→ Extra Services (directly payable)
→ G.S.T
→ Medical Services
→ Insurance for Travelling


PLACES TO VISIT DURING RAJASTHAN TOUR
Rajasthan, the Land of Kings, is a captivating state in northern India known for its rich history, vibrant culture, majestic forts, opulent palaces, and colorful traditions. With its diverse landscapes ranging from the golden sands of the Thar Desert to the lush hills of the Aravalli Range, Rajasthan offers a plethora of unique and enchanting destinations to explore. Here are some best places that you must include in your RAJASTHAN TOUR PACKAGES

Jaipur - The Pink City: Jaipur, the capital city of Rajasthan, is a vibrant kaleidoscope of colors, culture, and history. The City Palace, Hawa Mahal, Amer Fort, and Jantar Mantar are some of the must-visit landmarks. The bustling markets, bustling with handicrafts, textiles, and jewelry, provide an immersive experience.



Udaipur - The City of Lakes: Udaipur's serene lakes, romantic palaces, and intricate temples make it a true gem. Lake Pichola, City Palace, Jagdish Temple, and the grandeur of Udaipur's architecture evoke a sense of timeless elegance.



Jodhpur - The Blue City: Jodhpur's Mehrangarh Fort, with its expansive courtyards and intricate carvings, overlooks the city painted in blue. Jaswant Thada, Umaid Bhawan Palace, and the vibrant bazaars of Jodhpur create a mesmerizing experience.



Jaisalmer - The Golden City: Nestled within the Thar Desert, Jaisalmer boasts stunning sandstone architecture, with the iconic Jaisalmer Fort rising like a mirage. The intricate havelis, camel safaris, and the desert festival are a few highlights.



Pushkar - The Sacred Town: Pushkar is famous for its sacred Pushkar Lake and the only Brahma Temple in the world. The Pushkar Camel Fair, with its vibrant cultural festivities, draws travelers from around the globe.



Ajmer - The Spiritual Hub: Ajmer is home to the revered Ajmer Sharif Dargah, a significant Sufi shrine, attracting devotees and travelers alike. The serene Ana Sagar Lake and the Taragarh Fort offer scenic tranquility.



Bikaner - The Desert Oasis: Known for its camel breeding farms, Bikaner showcases the Junagarh Fort, Karni Mata Temple (also known as the Rat Temple), and the vibrant bazaars, providing a distinct flavor of Rajasthan.



Mount Abu - The Hill Station: Nestled amidst the Aravalli Range, Mount Abu offers a refreshing contrast with its cool climate. The Dilwara Temples, Nakki Lake, and the Toad Rock are captivating attractions.



Chittorgarh - The Citadel of Pride: The Chittorgarh Fort narrates tales of courage and sacrifice. The Vijay Stambh, Kirti Stambh, and the Rana Kumbha Palace stand as reminders of its glorious past.



Ranthambore - Ranthambore National Park is renowned for its tiger population and diverse wildlife. The safari experiences offer a chance to witness the incredible biodiversity up close.



Shekhawati - The Open-Air Art Gallery: Shekhawati is a region adorned with exquisitely painted havelis showcasing intricate frescoes and murals, offering a unique visual treat.



Bundi - The Hidden Gem: Bundi's charm lies in its narrow lanes, step wells, and the impressive Bundi Palace, adorned with stunning frescoes.



Alwar - The Historical Town: Alwar boasts the Sariska Tiger Reserve, the Bala Qila Fort, and the stunning Siliserh Lake, combining nature and history seamlessly.



Sawai Madhopur - Gateway to Ranthambore: Sawai Madhopur is the starting point for exploring Ranthambore National Park. The town's historical significance and vibrant culture add to its appeal.



Kota - The Educational Hub: Kota's Chambal Gardens, Kota Barrage, and the Kota Garh Palace offer glimpses into the town's natural beauty and historical heritage.



Bharatpur - The Bird Paradise: Keoladeo National Park in Bharatpur is a UNESCO World Heritage Site and a haven for birdwatchers, hosting a diverse range of avian species.



Jhalawar - Land of Temples: Jhalawar features intricately carved temples, impressive forts, and the Jhalawar Fort, showcasing the town's historical heritage.



Barmer - The Desert Town: Barmer is known for its unique woodcarvings, textiles, and the captivating Kiradu Temples, displaying intricate architecture.



Dungarpur - The Rustic Charmer: Dungarpur's Udai Bilas Palace, Gaib Sagar Lake, and the ancient temples offer a glimpse into the town's rural charm.



Nagaur - The Historic Town: Nagaur Fort, Ahhichatragarh Fort, and the Nagaur Cattle Fair are the prime attractions in this lesser-explored town.



Osian - The Oasis in the Desert: Osian is famous for its ancient temples, intricately carved sculptures, and the desert safari experiences it offers.



Kumbhalgarh - The Great Wall of India: Kumbhalgarh Fort, with its impressive wall that spans 36 kilometers, offers breathtaking views and historical significance.



Churu - The Merchant Town: Churu's grand havelis, the Sethani Ka Johara, and the Churu Fort provide insight into the town's mercantile past.



Burir Dabir is a famous watchtower that will drive you into a mangrove cage trail with the infamous view of Raimongal View Point.


WHY YOU SHOULD BOOK RAJASTHAN PACKAGE WITH TOURIST HUB INDIA?
For over 6 years, we have been organizing memorable Rajasthan trips with great success, leaving our guests overwhelmingly satisfied. With a track record of 3500+ happy guests, our seamless service and commitment to guest satisfaction set us apart from other Rajasthan tour agencies in Kolkata. Discover the reasons why guests prefer to travel with us:


EXTENSIVE LIST OF SATISFIED GUESTS
Our database is filled with satisfied guests who have embarked on the Rajasthan Trip and across India. Their sheer satisfaction and happiness are the ultimate rewards we strive for. You can easily book your Rajasthan Package Tour with us by making a simple phone call, as we are available 24/7 to provide you with the best service.


CUSTOMIZED ACCOMMODATION
We understand the importance of your preferences, and accordingly, we offer a range of accommodation options. Whether you prefer hotels, resorts, or even a stay on a boat, we will arrange it for you. Our facilities include both AC and Non-AC rooms with hot water service. Throughout your journey, our experienced and friendly tour manager will be there to ensure your comfort and provide top-notch amenities.


DELECTABLE MEALS CATERED TO YOUR PREFERENCES
Our main highlight is the lip-smacking meals we offer during the Rajasthan Tour. Guests who have travelled with us have consistently praised our food. We prioritize hygiene and source fresh ingredients, from water to spices, fish, and chicken, ensuring that we serve you the best food possible. We also cater to specific requests and preferences, allowing you to savor local delicacies. Our food standards prioritize cleanliness and hygiene, with special considerations for elderly people, children, and diabetic patients.


ROUND-THE-CLOCK TOUR MANAGER SUPPORT
Throughout your entire journey, starting from the Rajasthan Tour Booking process, our experienced and friendly tour manager will be there to guide you. They will attend to every detail, ensuring your safety, security, and comfort during activities such as Rajasthan Cruise, jungle walking, sightseeing, night stays, and entertainment arrangements. Should any issues arise, our tour manager will be at your service.


AFFORDABLE PRICE RANGE
Our Rajasthan Tour packages are competitively priced and pocket-friendly. This affordability has attracted guests not only from Kolkata but from all over India, and we have even organized successful birding tours for foreign guests. Booking your Rajasthan Tour is as simple as making a phone call. Give us a chance to impress you, and we guarantee you won't be disappointed.


WHAT YOU SHOULD CARRY FOR RAJASTHAN TOUR
→ Photo ID proof with two photo copy is mendatory for your Rajasthan tour

→ Electronic copies of important documents saved on your phone or cloud storage.

→ Reading material, travel games, or puzzles for downtime.

→ Travel pillow and eye mask for comfortable rest during long journeys.

→ A backpack or daypack for carrying essentials during day trips.

→ Camera or smartphone for capturing memorable moments.

→ Basic medicines for fever, cough, cold, stomach upset for your own safety

→ Power bank for recharging electronic devices on the go.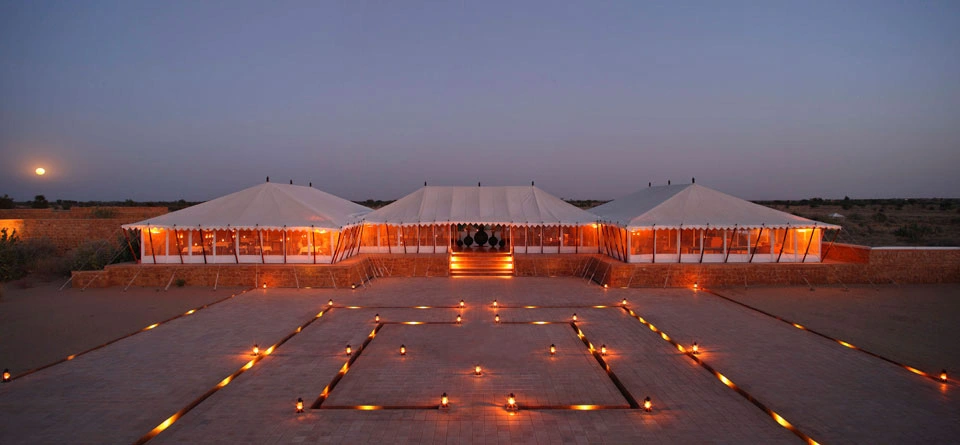 ACTIVITIES YOU CAN ENJOY IN RAJASTHAN PACKAGE TOUR
A trip to Rajasthan isn't just about visiting historical sites and admiring architectural wonders; it's also about immersing yourself in the rich culture, traditions, and experiences that this vibrant state has to offer. From exhilarating desert safaris to indulging in traditional arts and crafts, Rajasthan offers a plethora of activities that promise to make your tour truly unforgettable. Here are some activities to enjoy during your Rajasthan tour:


Camel Safari in the Thar Desert: - Embark on a camel safari through the golden dunes of the Thar Desert. Feel the serenity of the desert landscape as you traverse the undulating sands and witness breathtaking sunsets that paint the sky in hues of orange and gold.



Hot Air Balloon Ride in Jaipur: - Soar above the Pink City of Jaipur in a hot air balloon and marvel at the city's stunning forts, palaces, and colorful markets from a unique vantage point. The panoramic views are especially magical during sunrise or sunset.



Attend a Traditional Rajasthani Folk Performance: - Immerse yourself in Rajasthan's rich cultural heritage by attending vibrant folk performances. Enjoy traditional dance forms like Ghoomar, Kalbeliya, and Kathputli, and be captivated by melodious Rajasthani music.




Experience the Royalty of Palace Stays: - Indulge in the luxury and opulence of Rajasthan's palace hotels. Stay in converted palaces and havelis that offer royal treatment, exquisite architecture, and a glimpse into the regal past.


Enjoy a Boat Ride on Lake Pichola: - In Udaipur, take a leisurely boat ride on the serene Lake Pichola. Admire the stunning City Palace and Jag Mandir while soaking in the tranquil ambiance of the lake surrounded by hills.



Attend a Rajasthani Cooking Class: - Learn the secrets of Rajasthani cuisine by taking a cooking class. Engage in hands-on experiences to master the art of preparing traditional dishes using local ingredients and techniques.



Visit Block Printing Workshops: - Explore the art of block printing by visiting workshops in cities like Jaipur and Sanganer. Witness skilled artisans creating intricate patterns on textiles using traditional methods.



Marvel at the Jantar Mantar Astronomical Observatory: - In Jaipur, visit the UNESCO-listed Jantar Mantar observatory, which showcases a collection of architectural astronomical instruments. Marvel at the precision and accuracy with which these instruments were designed centuries ago.





Engage in Traditional Arts and Crafts: - Participate in workshops that offer insights into traditional arts like pottery, puppetry, and tie-dye. Create your own masterpiece and take home a piece of Rajasthan's artistic heritage.



Marvel at the Jantar Mantar Astronomical Observatory: - Catch a Rajasthani puppet show that narrates folk tales and stories through intricate puppetry. The vibrant puppets and engaging performances will transport you to a world of Rajasthani folklore.



Marvel at the Jantar Mantar Astronomical Observatory: - Rejuvenate your body and soul with Ayurvedic massages and therapies at wellness centers and spas. Experience traditional healing practices to rejuvenate your senses.



Take a Cycling Tour: - Explore the narrow lanes and hidden alleys of Rajasthan's towns and villages on a cycling tour. Get up close to local life, interact with residents, and soak in the authentic charm of the state.



Explore Stepwells and Ancient Water Structures: - Discover the architectural marvels of stepwells like Chand Baori in Abhaneri. These ancient water structures showcase intricate designs and engineering feats.



Witness the Gangaur Festival: - If you're visiting during the Gangaur Festival, witness the colorful processions and celebrations that honor Goddess Parvati. The festival provides a glimpse into Rajasthan's vibrant culture and devotion.



Marvel at the Sunset at Nahargarh Fort: - Head to Nahargarh Fort in Jaipur to witness a mesmerizing sunset over the city. The panoramic view from the fort's vantage point offers a spectacular backdrop for your evening.



Learn Traditional Dance and Music: - Engage in workshops that teach you traditional Rajasthani dance forms like Ghoomar or Dandiya Raas, and learn to play traditional musical instruments like the dholak or harmonium.



Witness the Pushkar Camel Fair: - If your visit coincides with the Pushkar Camel Fair, be prepared for an extraordinary experience. Witness a vibrant fair with camel races, traditional performances, and a colorful display of Rajasthani culture.



Explore Local Bazaars and Markets: - Rajasthan's bustling markets are a treasure trove of traditional crafts, textiles, jewelry, and artifacts. Explore the markets in cities like Jaipur, Jodhpur, and Jaisalmer to shop for vibrant textiles, intricate jewelry, and other handicrafts.



Taste Rajasthani Cuisine: - Indulge your taste buds with Rajasthani culinary delights. Try dal baati churma, gatte ki sabzi, laal maas, and other local specialties that capture the flavors of the region.



Take a Wildlife Safari in Ranthambore: - Embark on a thrilling wildlife safari in Ranthambore National Park, home to tigers, leopards, and a variety of other wildlife species. Spotting a majestic tiger in its natural habitat is an experience like no other.

THINGS TO AVOID ON RAJASTHAN TOUR PACKAGE
While Rajasthan offers a mesmerizing array of experiences and cultural immersion, there are certain things you might want to avoid to ensure a smooth and enjoyable tour. Here are some things to keep in mind:


Overpacking: - Avoid overpacking, especially if you're planning to move around different cities. Rajasthan can get quite hot, so pack lightweight and breathable clothing. Check the weather forecast and pack accordingly.



Disregarding Local Customs: - Respect local customs and traditions. Dress modestly, especially when visiting temples and religious sites. It's advisable to cover your shoulders and knees out of respect.



Not Staying Hydrated: - Rajasthan's climate can be extremely hot, particularly during the summer months. Avoid dehydration by carrying a water bottle with you and drinking plenty of fluids.




Ignoring Sun Protection: - The sun in Rajasthan can be intense. Avoid sunburn and heatstroke by wearing sunscreen, a hat, and sunglasses. It's also a good idea to carry an umbrella or wear lightweight long-sleeved clothing..



Not Bargaining: - In local markets and bazaars, bargaining is a common practice. Don't be afraid to negotiate prices, but do so respectfully and with a smile.



Not Carrying Cash: - While major cities have ATMs and card payment options, smaller towns and remote areas might primarily deal in cash. Carry sufficient local currency for your convenience.



Rushing Through Attractions: - Rajasthan is home to numerous historical sites and attractions. Avoid rushing through them. Take your time to absorb the beauty, history, and culture they offer.



Disrespecting Wildlife: - If you're visiting wildlife sanctuaries or reserves, avoid disturbing the animals or violating any rules set by the authorities. Maintain a safe distance and follow guidelines.



Overindulging in Spicy Food: - Rajasthani cuisine can be quite spicy. While indulging in local flavors is a must, avoid overeating or consuming overly spicy dishes if you're not accustomed to it.



Not Carrying Appropriate Clothing: - Pack suitable clothing based on the season and activities you plan to undertake. Lightweight and breathable fabrics are recommended, and don't forget to carry a scarf or shawl for covering up when needed.



Disrespecting Photography Rules: - While photography is allowed in most places, be mindful of rules and guidelines. Always ask for permission before taking photos of people, especially in rural areas.



Traveling During Peak Season Without Booking: - If you're visiting during Rajasthan's peak tourist season (October to March), it's advisable to book accommodations and tours in advance to avoid last-minute hassles.





By avoiding these pitfalls, you can make the most of your Rajasthan tour, ensuring a memorable and enjoyable experience that respects the local culture and maximizes your enjoyment.


RAJASTHAN TOUR GUIDE
Welcome to the mesmerizing state of Rajasthan, where history, culture, and vibrant colors come alive! As your Rajasthan tour guide, I'm here to help you navigate through this enchanting land and make the most of your visit. From majestic forts to bustling markets, from tranquil lakes to lively festivals, Rajasthan has something to offer every traveler. Let's dive into your ultimate Rajasthan tour guide: As the best Rajasthan Tour Guide, here Tourist Hub India will provide you all the necessary information to make your Rajasthan Trip a memorable one.


About Rajasthan: - Welcome to the mesmerizing state of Rajasthan, where history, culture, and vibrant colors come alive! As your Rajasthan tour guide, I'm here to help you navigate through this enchanting land and make the most of your visit. From majestic forts to bustling markets, from tranquil lakes to lively festivals, Rajasthan has something to offer every traveler. Let's dive into your ultimate Rajasthan tour guide:



Must-Visit Destinations: - Explore iconic cities like Jaipur (the Pink City), Udaipur (the City of Lakes), Jodhpur (the Blue City), and Jaisalmer (the Golden City). Each city offers unique attractions, from palaces and forts to serene lakes and bustling bazaars.



Top Attractions: - Jaipur: City Palace, Hawa Mahal, Amber Fort, Jantar Mantar, Udaipur: City Palace, Lake Pichola, Jagdish Temple, Fateh Sagar Lake, Jodhpur: Mehrangarh Fort, Jaswant Thada, Umaid Bhawan Palace, Jaisalmer: Jaisalmer Fort, Patwon Ki Haveli, Sam Sand Dunes




Cultural Experiences - Attend a traditional Rajasthani folk dance and music performance, Explore local markets and shop for textiles, jewelry, and handicrafts and also Savor Rajasthani cuisine, including dal baati churma and gatte ki sabzi..



Outdoor Adventures: - Enjoy a camel safari in the Thar Desert, embark on a wildlife safari in Ranthambore National Park, and take a hot air balloon ride over Jaipur's stunning landscapes.



Festivals and Events: - Witness the grandeur of the Pushkar Camel Fair, Celebrate Holi, the Festival of Colors, with locals and Experience Diwali, the Festival of Lights, in Jaipur.



Royal Stays: - Indulge in the opulence of palace hotels and heritage properties, offering a taste of royal living.



Cuisine: - Sample Rajasthani cuisine, known for its unique flavors and use of spices. Don't miss trying ker sangri, bajra roti, and Rajasthani sweets like ghewar.



Local Arts and Crafts: - Explore block printing, tie-dye, pottery, and puppetry workshops to witness the state's rich artistic heritage.



Safety and Health: - Stay cautious of street food hygiene and carry basic medications.



Rajasthan's Magic: - From the majestic forts and intricate palaces to the warm hospitality of its people, Rajasthan's magic lies in its ability to transport you back in time while welcoming you with open arms.



As your Rajasthan tour guide, my aim is to ensure that you have an incredible journey filled with unforgettable memories. So, let the adventure begin as you immerse yourself in the colors, history, and hospitality of Rajasthan!


DIFFERENT TYPES OF SUNDARBAN PACKAGES FROM TOURIST HUB INDIA?
FREQUENTLY ASKED QUESTIONS [FAQ] FOR RAJASTHAN TOUR
Planning a perfect trip to Rajasthan, India involves a mix of research, careful planning, and flexibility to fully enjoy the diverse culture, history, and landscapes of the region. Here's a step-by-step guide to help you plan your ideal Rajasthan trip: Research and Pre-planning: Understand Rajasthan's geography, culture, history, and weather conditions. Decide on the duration of your trip and the best time to visit. The winter months (October to March) are generally the most pleasant. Create a budget for accommodation, transportation, food, activities, and shopping. Choose Destinations: Rajasthan is vast, so select the cities and towns you want to visit. Common destinations include Jaipur, Udaipur, Jodhpur, Jaisalmer, Pushkar, and Ajmer. Prioritize your interests – history, architecture, culture, desert, wildlife, etc. Itinerary Planning: Create a rough itinerary with the number of days you'll spend in each destination. Account for travel time between cities and any rest days. Accommodation: Research and book accommodations in advance, especially during peak tourist seasons. Choose hotels or guesthouses that match your budget and preferences. Transportation: Decide whether to fly into a major city (e.g., Jaipur, Udaipur) or use trains and buses. Consider hiring a private driver or using public transportation for local travel within cities. Activities and Sightseeing: Research the attractions, palaces, forts, temples, markets, and other points of interest in each destination. Prioritize the places you want to visit and create a day-by-day plan. Cuisine: Rajasthan offers a unique culinary experience. Try local dishes like dal baati churma, gatte ki sabzi, and more. Research restaurants and street food stalls known for their authenticity. Cultural Etiquette: Respect local customs and dress modestly, especially when visiting religious sites. It's common to remove your shoes before entering temples or homes. Packing: Pack appropriate clothing for the season and destination. Rajasthan can get very hot in summer and chilly in winter. Comfortable walking shoes, sun protection, and any special items (medications, electronics) are essential. Local Festivals and Events: Check if any local festivals, fairs, or events coincide with your trip dates. These can add a unique cultural experience. Photography and Permissions: Rajasthan is a photographer's paradise. Research whether any sites have photography restrictions or require special permits. Health and Safety: Consult your doctor about vaccinations and health precautions before traveling. Carry a basic medical kit and stay hydrated. Flexibility: While planning is important, be open to adjusting your itinerary based on unexpected events or local recommendations. Souvenirs and Shopping: Rajasthan is known for its handicrafts, textiles, jewelry, and artwork. Plan time for shopping in local markets. Travel Documents: Ensure you have all necessary travel documents, including your passport, visa, and any permits required for certain areas. Remember that while planning is crucial, some of the best experiences often come from spontaneity and interactions with locals. Embrace the beauty and diversity that Rajasthan has to offer and enjoy every moment of your trip!


The number of days you'll need for a trip to Rajasthan depends on several factors, including the destinations you want to cover, your interests, and your travel pace. Rajasthan is a vast state with a rich cultural heritage, diverse landscapes, and numerous attractions. Here's a general guideline based on the popular destinations: Short Trip (5-7 days): If you have limited time, you can focus on one or two major cities. For example, you could spend 2-3 days exploring Jaipur's forts and palaces, and then another 2-3 days in Udaipur for its lakes and romantic atmosphere. Moderate Trip (10-14 days): With a bit more time, you can explore additional cities like Jodhpur, Jaisalmer, and Pushkar. This allows you to experience the desert, stunning forts, and unique cultural experiences. Extended Trip (2-3 weeks or more): If you have a more relaxed itinerary, you can cover multiple cities and add destinations like Ajmer, Bikaner, and Bundi. This allows for a deeper exploration of Rajasthan's history, architecture, and local life. Keep in mind that travel between cities can take time, especially if you're using trains or buses. It's also important to include a buffer day for unexpected delays or for simply taking a break. While you can get a taste of Rajasthan in even a few days, spending more time will allow you to immerse yourself in the culture and truly appreciate the beauty of the region.


As of my last update in September 2021, the safety and travel conditions in Rajasthan can vary depending on a variety of factors, including the current political, social, and public health situation. It's important to stay updated with the latest travel advisories and consult reliable sources before planning your trip. Here are some general tips to consider when assessing the safety of visiting Rajasthan or any other destination: Check Travel Advisories: Stay informed about travel advisories issued by your country's government or relevant international organizations. These advisories provide information about safety concerns and risks. Local Situation: Research the current local situation in Rajasthan. This includes looking into any recent incidents, protests, or other events that might impact tourists. COVID-19 Considerations: Given the ongoing pandemic, it's crucial to consider the COVID-19 situation in the region. Check for entry requirements, quarantine regulations, vaccination status, and local health guidelines. Keep in mind that the situation can change rapidly. Accommodation and Transportation: Ensure that hotels, transportation providers, and other essential services are operating safely and in accordance with health guidelines. Local Customs and Etiquette: Familiarize yourself with the local customs and cultural norms to ensure you respect the local culture and avoid any inadvertent offense. Health and Medical Facilities: Research the availability of medical facilities, healthcare services, and emergency contacts in the areas you plan to visit. Travel Insurance: Purchase comprehensive travel insurance that covers potential risks, including trip cancellations, medical emergencies, and unforeseen events. Local Advice: Once you arrive in Rajasthan, seek advice from reliable local sources, such as hotel staff or tour operators, about the current situation and any specific safety precautions you should take. Stay Informed: Keep a close eye on news sources, official government websites, and travel forums for real-time updates and insights from other travelers. Remember that safety is a dynamic and multifaceted aspect, and it's important to make well-informed decisions based on the most up-to-date information available. Always prioritize your personal well-being and follow recommended safety guidelines during your trip.


Both Jaipur and Jaisalmer are wonderful destinations in Rajasthan, but they offer distinct experiences and attractions. The choice between the two depends on your preferences and interests. Here's a comparison to help you decide which is better for you: Jaipur: Historical Significance: Jaipur, the capital city of Rajasthan, is known for its rich history and impressive architecture. It's home to numerous forts, palaces, and landmarks that reflect the grandeur of the region's past. Cultural Attractions: Jaipur offers a blend of historical sites and cultural experiences. You can explore the Amber Fort, City Palace, Hawa Mahal, and Jantar Mantar. Shopping: The city is renowned for its markets and bazaars, where you can shop for textiles, handicrafts, jewelry, and more. Culinary Scene: Jaipur's cuisine is diverse and offers a range of traditional Rajasthani dishes and other Indian cuisines. Accessibility: Jaipur is well-connected by air, train, and road, making it a convenient entry point for travelers. Jaisalmer: Desert Beauty: Jaisalmer is located in the Thar Desert and is famous for its golden sandstone architecture. The city itself is a living museum with its ancient havelis, narrow streets, and the impressive Jaisalmer Fort. Camel Safaris: Jaisalmer is a gateway to the sand dunes of the Thar Desert. You can enjoy camel safaris, watch the sunset over the dunes, and experience the unique desert landscape. Relaxed Atmosphere: Jaisalmer has a more laid-back and less crowded ambiance compared to larger cities like Jaipur. Unique Experience: The desert setting, the fort's intricate carvings, and the cultural heritage create a unique and romantic atmosphere. Weather: Jaisalmer's climate can be hot during the day but cooler at night due to the desert environment. In summary, if you're interested in historical architecture, cultural experiences, and vibrant markets, Jaipur might be the better choice. On the other hand, if you're fascinated by desert landscapes, ancient forts, and the opportunity for camel safaris, Jaisalmer could be the preferred option. Some travelers choose to visit both cities as part of a broader Rajasthan itinerary to enjoy a mix of historical and desert experiences.


The coldest month in Rajasthan is generally January. During this month, temperatures across the state can drop significantly, especially during the night and early morning hours. Cities like Jaipur, Jodhpur, Udaipur, and others experience cool to cold temperatures, and you might need to wear warm clothing, especially in the evenings and early mornings. It's worth noting that while Rajasthan is known for its hot and arid climate, the winter months from November to February are relatively cooler and more pleasant for tourists to explore the region's attractions. This is considered the peak tourist season in Rajasthan, as the weather is more comfortable for sightseeing and outdoor activities.


The number of days you need to fully explore Udaipur depends on your travel style, interests, and the pace at which you prefer to travel. Udaipur is a city with a rich history, stunning lakes, palaces, and cultural attractions. Here's a general guideline for how many days are sufficient to enjoy Udaipur: Short Visit (1-2 days): If you have limited time, you can cover the main highlights of Udaipur in 1 to 2 days. This might include visiting the City Palace, taking a boat ride on Lake Pichola, exploring the Jagdish Temple, and strolling through the markets. Moderate Visit (3-4 days): Spending 3 to 4 days in Udaipur allows you to explore the city at a more relaxed pace. You can delve deeper into the attractions mentioned above, and also consider visiting places like Saheliyon-ki-Bari (Garden of Maids of Honour), Fateh Sagar Lake, and Shri Ekling Ji Temple. Comprehensive Visit (5+ days): If you're an enthusiast for history, architecture, and leisurely exploration, you might want to spend 5 or more days in Udaipur. This will give you the opportunity to explore the lesser-known gems, take part in cultural experiences, and immerse yourself in the city's ambiance. Additionally, Udaipur's serene atmosphere and the option to enjoy leisurely boat rides and lakeside views might encourage you to extend your stay. Remember that your travel pace and interests play a significant role in how many days you'll find sufficient. It's also a good idea to factor in some downtime to simply relax and soak in the beauty of the "City of Lakes."


The starting point for your Rajasthan tour depends on your travel plans, preferences, and the cities you want to explore. Two of the most common starting points for a Rajasthan tour are Jaipur and Udaipur. Here's a brief overview of both options: Jaipur: Jaipur, often referred to as the "Pink City," is the capital of Rajasthan and a popular starting point for many Rajasthan itineraries. It's well-connected by air, rail, and road, making it a convenient entry point for travelers. Jaipur is known for its magnificent forts, palaces, markets, and vibrant culture. Some of the must-visit attractions include the Amber Fort, City Palace, Hawa Mahal, and Jantar Mantar. This city provides a great introduction to the rich history and architecture of Rajasthan. Udaipur: Udaipur, also known as the "City of Lakes," is another excellent starting point for a Rajasthan tour. The city is renowned for its stunning lakes, palaces, and romantic ambiance. The City Palace, Lake Pichola, Jagdish Temple, and Saheliyon-ki-Bari are some of the top attractions. Udaipur has a more relaxed pace and a focus on lakeside beauty and heritage. Udaipur is also well-connected by air, rail, and road, making it a convenient entry point for travelers. When deciding where to start your Rajasthan tour, consider your interests and the cities you want to include in your itinerary. Both Jaipur and Udaipur offer unique experiences and attractions, so you can choose the one that aligns best with your travel goals. Additionally, if you plan to visit multiple cities, you might also consider flying into one city and departing from another to optimize your travel route.


The cost of a Rajasthan trip can vary widely based on factors such as your travel style, duration, accommodation preferences, activities, transportation choices, and personal spending habits. Rajasthan offers options for budget travelers as well as those seeking luxury experiences. Here's a general breakdown of potential costs: Accommodation: Budget: Hostels and budget guesthouses can cost around $10-30 per night. Mid-Range: Mid-range hotels and guesthouses might range from $40-100 per night. Luxury: High-end hotels, heritage properties, and luxury resorts can cost $150 or more per night. Transportation: Flights: International flight costs can vary widely depending on your departure location, time of booking, and travel dates. Domestic Flights: Flights between major cities in Rajasthan can range from $30 to $150 or more depending on the distance. Trains and Buses: Train and bus tickets are more budget-friendly, with prices varying based on class and distance. Food: Street food and local restaurants: Budget around $5-15 per day. Mid-range and upscale restaurants: Expect to spend $20-50 or more per meal. Sightseeing and Activities: Entrance fees to monuments and attractions can add up. Budget for around $5-20 per attraction. Guided tours and cultural experiences may have varying costs depending on the activity. Miscellaneous: Shopping, souvenirs, and personal expenses can vary greatly depending on your preferences. Taking all these factors into account, a budget traveler might be able to manage a trip to Rajasthan for around $40-60 per day. Mid-range travelers can expect to spend around $80-150 per day. For those seeking luxury experiences, the costs can range from $200 to several hundred dollars per day. Remember that these are rough estimates and can vary based on individual choices and changing economic conditions. It's important to research and plan your trip according to your budget and preferences. Also, consider additional costs such as travel insurance, visa fees (if applicable), and any specific activities or events you plan to participate in.


Rajasthan is a state rich in beauty and diversity, offering a variety of stunning landscapes, historical sites, and cultural experiences. Different parts of Rajasthan have their own unique charm and beauty. Here are some particularly beautiful regions and destinations within Rajasthan: Udaipur: Known as the "City of Lakes," Udaipur is famous for its picturesque lakes, elegant palaces, and romantic ambiance. The serene Lake Pichola, the majestic City Palace, and the intricate architecture make Udaipur a truly beautiful destination. Jaisalmer: This "Golden City" is located in the heart of the Thar Desert and is characterized by its stunning sandstone architecture. The magnificent Jaisalmer Fort, the intricate havelis (mansions), and the vast sand dunes create a unique and mesmerizing atmosphere. Jaipur: The capital city, often called the "Pink City," is known for its vibrant culture and impressive architecture. The Amber Fort, Hawa Mahal, and City Palace showcase the grandeur of the region's history. Pushkar: This sacred city is built around a serene lake and is famous for its annual camel fair and Brahma Temple. The town's spiritual atmosphere and the colorful ghats (steps leading to the water) make it a captivating place. Ranthambore: This national park is famous for its tiger population and offers an opportunity to see wildlife in their natural habitat. The rugged landscape, lush forests, and ancient ruins add to its allure. Shekhawati: Known for its ornate havelis adorned with intricate frescoes, the Shekhawati region is a hidden gem showcasing unique architecture and art. Chittorgarh: This historic city is home to the largest fort in India, Chittorgarh Fort. The fort's towering walls and the stories of bravery associated with it make it a fascinating destination. Bundi: This lesser-known town is famous for its charming blue houses, step wells, and a majestic palace overlooking a lake. Mount Abu: The only hill station in Rajasthan, Mount Abu offers a refreshing change with its cooler climate, lush greenery, and the serene Nakki Lake. Each region has its own beauty and attractions, so the "most beautiful" part of Rajasthan ultimately depends on your personal preferences and interests. Exploring different parts of the state will give you a well-rounded experience of Rajasthan's diverse beauty.


The off-season in Rajasthan typically falls during the summer months, from April to June, when the weather becomes extremely hot and dry. This period is considered off-season for tourism due to the harsh climatic conditions. Here's more information about the off-season in Rajasthan: Off-Season Period: April to June Characteristics of the Off-Season: Extreme Heat: Rajasthan experiences scorching temperatures during the summer months, with daytime temperatures often exceeding 40°C (104°F) or even higher. Low Tourist Numbers: Due to the uncomfortable heat, fewer tourists visit during this period, resulting in reduced crowds and potentially lower prices for accommodation and activities. Limited Outdoor Activities: The intense heat makes outdoor sightseeing and activities challenging during the day. It's advisable to plan activities for early mornings or late afternoons. Local Festivals: Despite the heat, some local festivals and fairs may take place during this time. These events offer a chance to experience the region's cultural and religious celebrations. Considerations for Traveling in the Off-Season: If you're sensitive to heat, it's important to be prepared for the high temperatures and take necessary precautions to stay hydrated and protected from the sun. Seek accommodations with air conditioning and other cooling facilities. Plan your activities around the cooler parts of the day. Some tourists choose to visit during the off-season to take advantage of lower prices and fewer crowds. However, keep in mind that certain attractions may have limited hours or be closed due to the heat. Overall, while the off-season in Rajasthan can be challenging due to the extreme heat, it can also provide a unique and more budget-friendly travel experience for those who are prepared for the weather conditions. If you're considering traveling during this time, make sure to plan accordingly and prioritize your comfort and well-being.



TOURIST HUB INDIA RAJASTHAN TOUR CANCELLATION POLICY
→ Rajasthan package tour booking Would be Intimated through corporated emailm id.
→ Company Service Voucher Would be Issued to the Guest aginst the same.
→ 50% advance payment (100% for super peak time) is required to get the confirmation.
→ 100% Payment to be made before 3 days of Check In.
→ For any cancellation irrespective of no of days 15% charges will be levied.
→ 25% of the Package amount to be levied if cancelled between 20- 07 days before Check in.
→ 50% of the package amount to be levied If Cancelled between 07 – 03 days of Check in.
→ No Refund incase Of No show /Short Stay/or if Cancelled between 72 Hrs of Check in.
→ 100% cancellation Charge once Booking is made for Super Peak Season.
RAJASTHAN PACKAGE TOUR REVIEWS
4.9
Stars Rating, out of
5
based on
248
Reviews
It was a great trip for rajasthan with Tourist hub India. quality of food and taste was very good. Nice resort and was very comfortable . thanks to all the staffs and coordinator. they are very gentle and gave us all the necessary service promptly..

Vishal Salgaokar

Dec 18, 2020

It was really awesome experience in Rajasthan. The trip quality was awesome and enjoyable. The quality of service, resort, food everything they are provided was really nice and also was a great experience overall trip.

Great experience and friendly manager and staff and tour cost is competitive in this package including all, I think its a great deal. The hotel, food and rooms are also very nice..

We had a family trip at Rajasthan with tourist hub india and the tour plan for 8 days rajasthan tour was excellent, and the trip coordinator was well behaved and helpful. The food was good and the resort abiance was great. We enjoyed the traditional fold dance and overall experience was great.

Vinit Agarwal

Jan 15, 2021

Rooms were very nice and clean. Food was homely and well-cooked. The staffs were friendly and down to earth. it was an enjoyable trip.