North Sikkim Tour Packages from Bagdogra/Njp/Siliguri
North Sikkim Package Tour from Bagdogra/Njp/Siliguri For Booking Online ☎ CALL : +91-9830016806
7 Nights
8 Days

Pickup:
Silguri

Drop:
Siliguri

Start From
8500.00/per person
North Sikkim Tour package from Bagdogra is undoubtedly one of the most lovable places in India. Planning your North Sikkim Tour Packages with us will provide you with flexible, reasonable and well-customised service to the best spots of North Sikkim with budget friendly North Sikkim trip cost. From the breathtaking views of picturesque vitae, lakes, waterfalls, and monasteries to snow-capped mountains, we'll bring you to the all amazing places you need to witness in your lifetime. Apart from that our deluxe hotels, and car will add more fun to your journey.
We have been providing the best Sikkim Tourism for many years and our experienced Sikkim Tour operator has generated the top best itineraries as per your needs and comfort, and our North Sikkim Package Tour from NJP/Siliguri/Bagdogra with Lachen and Lachung is one of the most popular among them.
The best time to book North Sikkim Package Tour is during the months of April to June and September October November. North Sikkim in October and these months offer pleasant weather with moderate temperatures, making it an ideal time for sightseeing and outdoor activities.
We have been providing the best Sikkim Tourism for many years and our experienced North Sikkim Tour agency has generated the top best itineraries as per your needs and comfort. So, What are you waiting for? Come and explore this paradise of the earth with us!

You will be also able to explore various amazing places of India throung our customised packages like North Sikkim Tour 2n/3d, Pelling Ravangla Gangtok tour from Bagdogra,Sundarban 2N/3d Tour, Silk Route Package Tour, North East Tour Package, Leh Ladakh Package Tour, Dooars Package Tour, Andaman Package Tour, North East Package Tour, Kashmir Package Tour and many more with your friends and family.
NORTH SIKKIM TOUR PACKAGE COST
Our North Sikkim tour package cost is 100% reliable and user-friendly as it starts with only Rs. 9,500 per person, and at this rate, we provide you deluxe rooms, standard vehicles, and other amenities according to your convenience. We also provide the best competive north sikkim package tour cost as offer by other service providers.
| Packages | Duration | Rooms | Starting Price |
| --- | --- | --- | --- |
| Gangtok with Lachen Lachung | 2N/3D | DELUXE | Rs. 8,500/- |
| Gangtok with Lachen Lachung and Pelling | 4N/5D | DELUXE | Rs. 15,500/- |
| North Sikkim Tour | 5N/6D | DELUXE | Rs. 12,500/- |
| North Sikkim Tour With Pelling and Darjeeling | 5N/6D | DELUXE | Rs. 11,200/- |
| North Sikkim Tour With Gangtok+Pelling+Darjeeling | 10N/11D | DELUXE | Rs, 20,800/- |
DAY WISE NORTH SIKKIM TOUR PLAN
According to our knowledgeable and well-experienced North Sikkim Tour planner, we have prepared this flexible North Sikkim tour itinerary for your 7 night 8 days North Sikkim journey.


The first day of your exciting voyage will begin after we meet and greet each other at Siliguri/NJP station or Bagdogra airport [IXB]. Then we'll move ahead to Gangtok in a comfortable private car. Located at the height of 1,650 m, during your journey to Gangtok you'll delight your eyes with the picturesque view of the Teesta river which will be your companion all the way. Thereupon, four hours later you'll reach your lavish hotel in Gangtok. After freshening up in your hotel room you can stride about the neighbourhood and shop on MG Marg in the evening. However, Gangtok is a big place with many amazing spots and just covering all the amazing places in one day will be impossible, so this small tour will just be the introduction to this paradise on earth. On this day of your journey, you'll get to know Gangtok better in your North Sikkim Trip from Njp/Siliguri.
At night after having a lip-smacking dinner, you'll cuddle up to your bed and wait for the next day's sun to rise.
The second day's sun will cheer you for a new exhilarating journey!
After having a delicious breakfast at your Gangtok hotel, we'll move toward one of the most exciting parts of your North Sikkim tour Summer Packages, the Lachen Tour.
At 10a.m we'll get ready for the Lachen with the private car from your hotel. Moreover, before reaching Lachen let's know some interesting facts about it→
➔ It is situated at a height of 9000 ft.
➔ 'Lachen' contains the majority of the valley; also rare flower species like Conifer and more than 40 species of Rhododendrons can be spotted here.
➔ Lachen is named after 'Lachen Chu', a stream of the mountain that has gone through the heart of the valley, making it intensely stunning as it flows.
➔ It can get extremely cold from October to November due to heavy rainfall.
➔ Lachen also has a famous monastery called 'Lachen Monastery' known as Lachen Gompa which was built in 1858. Made in Tibetan architecture style here, you can witness amazing festivals for getting a taste of Sikkim's culture.
➔ From 107K.M away from this area, you can also visit the Kanchenjunga National Park which is registered as a World Heritage Site by UNESCO.
Moreover, It'll take around 4 hours via NH 31A to reach Lachen and after reaching you'll witness the most amazing places mentioned in the following:
● Tashi View Point- This place was built by Tashi Namgyal, here you can have a paranoid view of Mt. Kanchenjunga.
● Kabi Longstok- The treaty between Lepcha Chief Te-Kung-Tek and the Bhutia Chief They-Bum-Sar was signed here, so it is considered a historical place of North Sikkim located near the highway.
● Seven Sister Waterfalls- The name of this waterfall comes as it makes its descent in seven stages. Here you can also find a shed and cafeteria which is specially set by the Tourism Department of Sikkim for tourists to savour the pristine elegance and be with nature.
● Naga Waterfalls- This is a perennial waterfall in nature, created with the confluence of rivers Lachen-Chu and Lachung-Chu at Chungthang.
The other two waterfalls Bhim Nala & the Twin Waterfalls will come across in the route along with the glamorous Teesta river which will follow you all the way.
Subsequently, after visiting the incredible spots you'll be provided with a tasty lunch at Namok, a glorious village of North Sikkim. You'll possibly reach Lachen around the evening.
Here, you'll stay overnight and have your flavorful dinner at our arranged deluxe hotel at Lachen.


After waking up at your deluxe hotel in the early morning, you'll have a tasty breakfast. Accordingly, we'll look forward to one of the best sightseeing places in North Sikkim, Gurudongmar Lake. So, here are some vital points you must know about Gurudongmar Lake before your Gurudongmar Lake Tour→
● Gurudongmar Lake is located at a height of 5,154m above the sea
, which is one of the best attraction of your North Sikkim Tour Package ● It is one of the sacred lakes of Buddhists & Hindus.
● It remains an elegantly milky colour throughout the year.
● As the water of this lake remains frozen throughout the year, its water is not drinkable.
● As per the locals, this lake was discovered by Guru Padmasambhava when he passed by this area from Tibet.
● Locals consider this lake 'blessed' as a part of this lake remains unfrozen throughout the year as it was being touched by Guru Padmasambhava.
● You can also take blessings of this holy lake by tieing the ribbon here and making a wish. Many locals consider it as a 'wish lake'.
After having a blast at your Gurudongmar Lake Tour, you'll have your lunch at the Lachen hotel. Therefore, you'll transfer to Lachung. Located at an altitude of 2700 m above sea level, it'll take 1 hour 55mins to reach here from Lachen (46.9 km) by road.
After reaching Lachang, you'll freshen up at your deluxe hotel at Lachung and have a delicious dinner.
Don't let the excitement of your next day's journey snatch your sleep!


In the morning, after having a tasty breakfast, we'll move forward to the mesmerizing Yumthang valley also known as the 'Valley of flowers' for another incredible experience! So, let's know about this scenic valley in a little details→
● The Yumthang valley is located at an altitude of 11,800 ft. And 25 K.m away from Lachung
which is also one of the best attraction in your North Sikkim Package tour ● It'll take merely 1:30 hours to drive to Yumthang valley.
● On the journey towards the valley, you can have the sight of many glamorous streams, mountains, rivers, roads and fully bloomed Rhododendron.
● If you visit the valley in winter you will see it covered with snow but in summer you will witness the bloomed Rhododendron and Primulas throughout your entire tour.
● You can also visit the Zero point from this valley (23k.m) with an extra fee and permit.
At the time of touring the valley, you'll visit the famous Shingba Rhododendron Sanctuary, adjoining Yumthang and Lachung. It is spread over 43 sq k.m of the valley. Here you can find Rhododendron shrubs, rich flora and other vegetation.
At the end of the exhilarating journey, you'll go back to the Lachung hotel for an overnight stay.


Warm morning tea will welcome you into a new astonishing journey next morning! And after having a lip-smacking lunch in the Lachung hotel you'll be transferred to Gangtok.
On the way, you'll visit the Katao valley, located just 23km away from Lachung and 144km from Gangtok.
Here are some detailed facts about the Katao Valley →
● Katao Valley is covered with thick snow in winter & during summer, it looks vigorous with Rhododendron, Primula and Poppy flowers.
● You can stroll around the mesmerizing beauty of the pine forest here.
● It is very close to the China border, so you just need a special Protected Area Permit (PAP) to enter here.
● From Katao valley you can witness Mt.Katao (15000ft), one of the most endearing spots by onlookers who love to explore this place.
[ If you're visiting North Sikkim in winter you can replace the Yumthang valley tour with the Katao valley tour] After an enormous journey, you'll proceed to Gangtok. Subsequently, you'll remove your tiredness by freshening up in your deluxe hotel in Gangtok.
And after having a delicious dinner you'll tighten to your bed.
P.S: Foreign travellers are not allowed in sensitive security areas like Gurudongmar Lake, Zero Point and Katao Valley.


Today will be a very exciting part of your North Sikkim Tour, as today you're going to visit some of the most striking spots!
So, after having breakfast, we'll stride ahead to unravel the following places:
● Tsomgo Lake: This oval-shaped lake is 45 k.m away from Gangtok city. Located at a length of 12,310ft, this lake is almost 1k.m long and 15 meters deep. This lake is also considered holy by the locals, and after exploring it we'll move 12 km further to dwell in Baba Harbhajan Singh Mandir.
● New Baba Harbhajan Singh Mandir: This temple is also another holy spot in Gangtok. It's also believed to have wish-fulfilling powers. Besides, it is also famous for having a 'Langar', where food is provided to the visitors on Sundays.
● Nathula Pass: It is a mountain pass between China's Yadong County, Tibet and India Dongkya Range, Himalayas. This pass also connects the towns of Gangtok & Kaligpong to the lower Chumbi Valley.
Moreover, it considers a corridor of passage between Tibet and India, which closed in 1960. It is located at an altitude of 14450 ft, and around 56km away from Gangtok. It passes through Tsomgo Lake and is considered the highest honourable road. And, on the cold days, you can also see the Chumbi valley here.
Afterwards, you'll stay overnight at the Gangtok hotel. NOTE: Nathula Pass visit will directly depend on a payment basis as it will be relying on the availability of permits from the Government, climate & road Conditions.

Next morning after having a flavourful breakfast you'll go ahead to explore Gangtok city, which will include the following places in your North Sikkim Trip Package:
● Tashi View Point: Established by Tashi Namgyal, you can have a panoramic view of Mt. Kanchenjunga from here. This is on of the best attraction in our North Sikkim tour plan
● Gunjan Monastery: Established in 1981 this Monastery is very close to the Tashi View Point. This monastery was founded by H.E. Tingkye Gonjang Rimpoche, who is considered the reincarnation of Yolmo Terton Ngakchang Shakya Zangpo, Nyingmapa Terton of the 15th century. It follows the Jangter tradition of the Nyingma school of Tibetan Buddhism.
● Do-drug Chorten: In order of Venerable Trullshi Rimpoche, it was built in 1945 for the increase of Tibetan Buddhism. There are 108 Mani Lhakor (Prayer Wheels) around the Chorten also accompanied by many religious things like a set of Kang Gyur relics (Holy Book), a complete mandala set of Dorjee phurba (Vajra Kilaya), complete 'Zung' (mantras) etc.
● Namgyal Institute of Tibetology: One of the most prestigious research institutes and museums in the world, filled with rare treasures like Tibetan, Lepcha, and Sanskrit manuscripts, statues and Thangkas, and colourful tapestries tried in Buddhist ceremonies. Besides, it also has over 200 Buddhist icons and other art materials.
● Orchid House: Located just below NIT it is a paradise of orchids containing 250 unique species of orchids.
● Huray Huray Dara the Nam Nang ViewPoint: This viewpoint procures a panoramic view of the lush forests and the lively green valley.
● Tsuklakhang (Palace Monastery): This famous monastery is located inside Chogyals places, who used to be the rulers of Sikkim. You can witness fascinating murals and portrayals of Buddhist pantheons on the walls of the monastery in a Sikkimist style. Moreover, Tsuklakhang is also considered the most accessible monastery in the city.
● White Memorial Hall: This hall is structured by the British in 1932 in memory of Claude White.
● Flower Show Hall: Located near the White Memorial Hall, it is a famous flower exhibition centre filled with the diverse flowering of Sikkim's fauna.
● Gangtok Ropeway: It's a breathtaking valley offering a panoramic bird's-eye view of the mountains and valleys in your North Sikkim tour plan.
After returning to the hotel you'll have free time in the evening to roam around MG Marg for shopping. Later on, you'll have your luscious dinner and comfy sleep at the hotel before your one last memorable day in North Sikkim.


This will be your last day of glimpsing the bright days of Sikkim!
In the morning after breakfast, you can shop at the mall for some time. Later on, we'll say our final goodbyes with a heavy heart after checking out from the hotel. Thereupon, you'll move forwards to NJP / Bagdogra by private car for your return journey.
This North Sikkim tour packages from NJP/Siligurijourney will give you unforgettable memories that you'll cherish forever!


Before your North Sikkim Tour Package Booking, here is the detailed information about our North Sikkim Tour Packages:
Pickup & Drop Location: In our customised North Sikkim tour from NJP we'll pick and drop you at the following locations in our private vehicles→
● Bagdogra Airport [IXB] ● NJP [New Jalpaiguri Station Here is a list of the top attractions of our North Sikkim Tour from Siliguri/NJP/Bagdogra→

● Gangtok, the capital city of Sikkim along with the striking scenic beauty which will blow your mind. It has an altitude of 1,650 m.
● Lachen is one of the biggest lakes in India with a height of 2,600 m. Famous for its outstanding views, it's also a popular pilgrimage site for Buddhists and Sikhs.
● Lachung is a well-known place at North Sikkim, and popular among travellers for its ancient monastery which is surrounded by an apple orchard. It is situated at a ridge of 2,700 m.
● Gurudongmar Lake is one of the biggest lakes in the world with an altitude of 5,425 m. It is encircled by stimulating views and crystal water which will come as heaven to you.
● Yumthang Valley, also known as the 'Valley of Flowers' for being the home of the Shingba Rhododendron Sanctuary with an altitude of 3,700 m. This sanctuary is famous for being the rare place for having over twenty-four varieties of the rhododendron, the state flower and other rare flowers as well.
● Zero Point stands at an altitude of 4,724 m. This place is also known as Yume Samdong. It's a lake famous for breathtaking views and snow-capped valleys, which you can observe at its peak in winter.
● Chopta Valley is a famous spot of Sikkim which is also known as the 'Mini Switzerland' for its astonishing lush green meadows located at an altitude of 2,608 m.


NORTH SIKKIM TOUR PACKAGEs INCLUSION:
→ Best Accommodation
→ Prior Meals ( Breakfast & Dinner)
→ Private vehicles for transfer and sightseeing tours
→ 24/7 Support Guide from Sikkim Expert
→ G.S.T.


NORTH SIKKIM TOUR FROM SILIGURI EXCLUSION:
→ Excluded things from the inclusion section are applicable
→ Entry fee for Museum, Monuments & others
→ Parking, Toll Tax, Permits,
→ Any extra service consumed by the guest. (payable directly)


BEST TIME TO TRAVEL NORTH SIKKIM?
North Sikkim is a place surrounded by scenic beauties and to witness all of its astonishing lakes, mountains and valleys and have the best sightseeing experience you must choose your visiting period wisely as per the months, so let's see what time of the year will be the most suitable for your journey to North Sikkim-
Summer-Spring [March to June]
: As per the suggestion of Tourist Hub, a
North Sikkim Tour Packages from Bagdogra/Njp/Siliguri
in the Summer will be the best option. The month between March to the end of June is the best period as the temperature of the place is 24°c to 45°c. Also, you can enjoy the blooming beauty of Gangtok during this peak spring season.
Monsoon [July to Sep]
: Monsoon will be the best time to enjoy the scenic beauty of Sikkim. At the temperature of 21°c to 35°c, it becomes paradise on earth this time. So, you should try to visit Sikkim from July to September during the monsoon to get glimpses of rare birds and plants.
Winter-Autumn [October to December]
: September, October and November is another great time to visit North Sikkim. The monsoon rains subside, and the weather remains pleasant with
north sikkim temperature in October
ranging between 5°C to 20°C (41°F to 68°F). The skies are usually clear, offering stunning views of the snow-capped mountains. This period is also ideal for trekking and enjoying the vibrant autumn foliage.
WHY YOU SHOULD VISIT NORTH SIKKIM WITH TOURIST HUB INDIA?
More than words, we let our service speak for us. As a top most North Sikkim Tour Operator from Kolakta, we have provided our esteemed clienteles an unmatched and the North sikkim tour plan with cost and customized cheapest North Sikkim tour packages from NJP/SILIGURI. We believe in the utmost customer satisfaction and that is why we have different flexible and tailors made North Sikkim Tour from Siliguri and an easy online booking system for Siliguri to north sikkim trip. As we are a Trusted North Sikkim Travel agency in Kolkata "Safety and Comfort" is the foundation of Tourist Hub India which has helped us two thrive in this competitive travel business. We have successfully completed lots of tours and have many happy guests since last five years. As a part of our amazing North Sikkim tour 7 nights 8 days packages, we provide :
→ The best accommodation facilities.
→ Delicious healthy breakfast, Lunch and Dinner
→ Complete tour management
→ Custom Sightseeing and Explore amazing places
→ 100% pocket friendly north sikkim trip cost
→ Experience Travel Agents for support
→ Doctor On Call on Trip
→ 100% Safety & Security
→ 24hours Power Backup
→ Best Sunderban tour itinerary
→ AC/NON AC comfortable transportation, entertainment and celebration
→ 100% Covid Safety Guideline followed by Team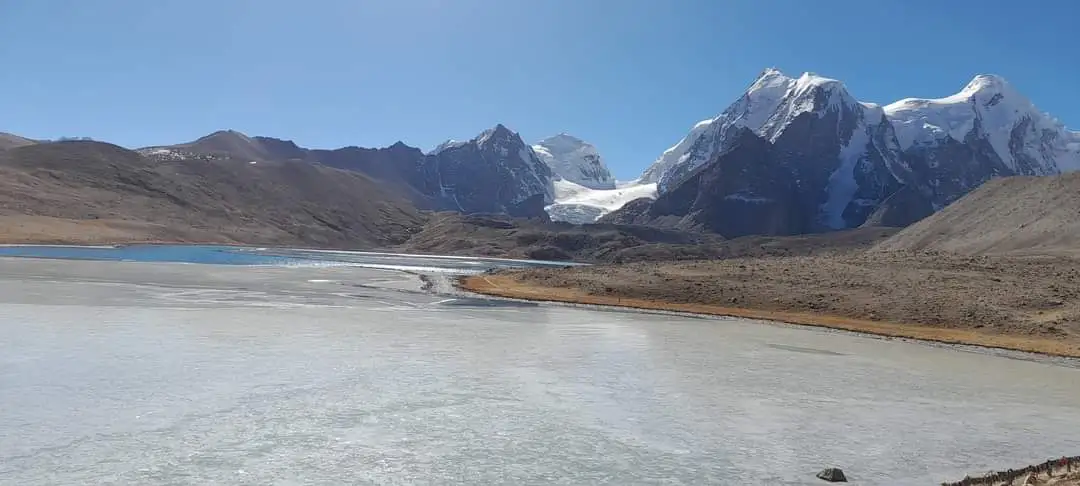 THINGS TO DO IN THE NORTH SIKKIM PACKAGE TOUR FROM SILIGURI/NJP/BAGDOGRA IN SUMMER
→ You must travel with a local guide who has full knowledge about the state and local regions.
→ You must follow the designated paths for trekking and conserve the local herbage
→ You must take PAP (Protected Area Permits) for visiting inhabited areas in your North Sikkim Travel.
→ You must keep your identity card handy with photocopies.
→ You must keep streams and lakes clean and pollution free.
→ You must honour the local culture, and dress modestly during visiting the monastery.
→ You must obey the rules of photography precisely.
→ You must try local delicacies like Thukpa, a Tibetan noodle soup.
→ You must carry little camphor during the Gurudongmar Lake tour for not to have breathing difficulties.
→ You must hold up a thermoflux container for warm water, tea or coffee.

PLACES TO VISIT IN NORTH SIKKIM TOUR PACKAGES FROM BAGDOGRA/SILIGURI/NJP
We have included all the exclusive corners of North Sikkim that will make your worth it in this North Sikkim tour package. Some of the North Sikkim tourist spots that we have included in our North Sikkim package tour from NJP/Siliguri are as follows.
Gurudongmar Lake [Altitude 5,154 m] [Coordinates 28.0258° N, 88.7097° E] One of the most sacred and famous places in North Sikkim and one of the best attraction in North Sikkim tour plan. It is situated at a high altitude of 17,800 feet and it remains milky in colour throughout the year. Moreover, travellers carry the water from the lake in bottles as it is considered 'blessed' and visited by Guru Padmasambhava. It is also the second highest lake in Sikkim after the Cholamu lake. Located near the beautiful village of Lachen, the lake will provide you with a breathtaking natural view. You can reach the lake via Thangu, the village of Lachen. However, foreign travellers must need to carry a special permit from the Ministry of Home Affairs in New Delhi before visiting. NOTE: Gurudongmar Lake Tour is also a part of our 2N 3D North Sikkim Package Tour from NJP.

Lachung [Altitude 2,700 m] [Coordinates 27.6891° N, 88.7430° E] It is a picturesque mountain village located at an altitude of 8,600 ft. It is embraced by the snow-capped mountains, sparkling streams, waterfalls and apple orchards. It is especially famous for its variety of fruits like peaches, apples and apricots. Moreover, here you can visit Lachung Gompa, a famous monastery (built:1880), situated among the apple gardens and dazzling Lachung Chu River to have a total scenic historic experience! Also, the Shingba Rhododendron Sanctuary is one of the glamorous places at Lachung you must visit for its profusion of Rhododendron trees and shrubs. Besides, our North Sikkim tour packages from NJP/Siliguri and Lachen Lachung Tour Package prevail over the elegance of this place perfectly.
Lachen [Altitude 2,600 m] [Coordinates 27.7167° N, 88.5577° E] Lachen is a place alluring with simplicity and the fresh essence of nature. Besides being a tiny tourist spot, it's famous for many things but one of them is the Yaks. Riding yak is also one of the tourist-loved activities you can enjoy here. Situated at an altitude of 8500ft, the villages of Lachen are very small and have very few populations. Earlier, the people of Lachen used to move away from here during winter with their owners. Additionally, our North Sikkim Tour Planner provides you with the best Lachen tour, as it's the gateway to many popular places of Sikkim, Gurudongmar Lake, Tso Lhamo lakes, and Lachen Gompa village, you can enjoy a whole beautiful experience of this place with us!
Yumthang Valley [Altitude 3,700 m] [Coordinates 27.8268° N, 88.6958° E] This place will be a paradise for nature and flower lovers! Known as the 'Valley of flowers' here you can witness the blend of the captivating beauty of flora & fauna with other astonishing scenic beauty. Located at an altitude of 11,800 feet, this place becomes a heaven on earth in the spring season with the blooming and surrounded flowers like Primulas and Rhododendrons. Besides, you can also visit The Shingba Rhododendron Sanctuary to watch over 24 species of Rhododendron flowers from April to the end of May. It's just 16 km away from Lachen. However, in the months of Nov-Dec and Feb-March, you can also have a breathtaking view of the valley from Yumesamdong.
Chungthang [Altitude 1,790 m] [Coordinates 27.6039° N, 88.6464° E]: Chungthang is a tiny picturesque town located at the convergence of the Lachen River and Lachung River. This town will provide you with stunning views and it is one of the adored places by nature and adventure lovers. Moreover, it is also a sacred place according to locals and legend of Sikhism, Guru Nanak had visited it while going to Tibet, and there is a tree which is believed to have the touch of Guru Nanak's stick. This place is also considered to be blessed with Guru Padmasambhava's presence in the 8th century while he was also going to Tibet, there is also a rock with his footprints and here villagers also grow crops which is quite impossible for the barren land and considered a miracle!

IMPORTANT FACTS TO KNOW FOR THE GURUDONGMAR LAKE TOUR
Gurudongmar Lake tour is one of the best attractions of our
North Sikkim Tour from Bagdogra/Siliguri
so, before visiting this mesmerising lake you must know some significant facts about it:
● The name of this lake comes from
Guru Padmasambhava
who is also remembered as Guru Rinpoche and was the father of Tibetan Buddhism.
● It is a very sacred lake to Buddhist people as for being visited by Guru Padmasambhava himself.
● There is a miracle on a part of the lake which was never intended to freeze even with a chilling cold with a temperature of about -20°C.
● Locals near the place believe in the magic of the lake and said that drinking this water of the lake can help resolve fertility issues of women.
● You can see lots of colourful ribbons on the sides of the lake which are symbols of individual visitors' prayers and that make this lake a 'wish lake'.
● If you or any of your travelling partners have any breathing problems you must take precautions before visiting this place as it has a high altitude of 5154m (17,800 ft).
● The journey from Gurudongmar Lake to Lachen will start in the very early morning around 4 a.m.
● During the long 80K.m journey from
Gurudongmar Lake to Lachen
, you must get used to the bumpy rocky roads as you'll be running over the meadows as plain roads don't exist there.
● On the way to the lake, you'll have breakfast at Thangu, one of the nearest habitats and the last place where you can buy souvenirs. Here you'll also cover two sightseeing points—Chopta Valley & Kala Patthar.
● It is a very sensitive area for being close to the Indo-China border and due to national safety no foreigners are allowed here and they can only visit up to Thangu.
● If you want to embark on a
Gurudongmar Lake sightseeing tour from Gangtok
it will not be covered in one day as it has a distance of 180K.m which will take around 8 hours to reach. So, you need to stay at Lachen for one night.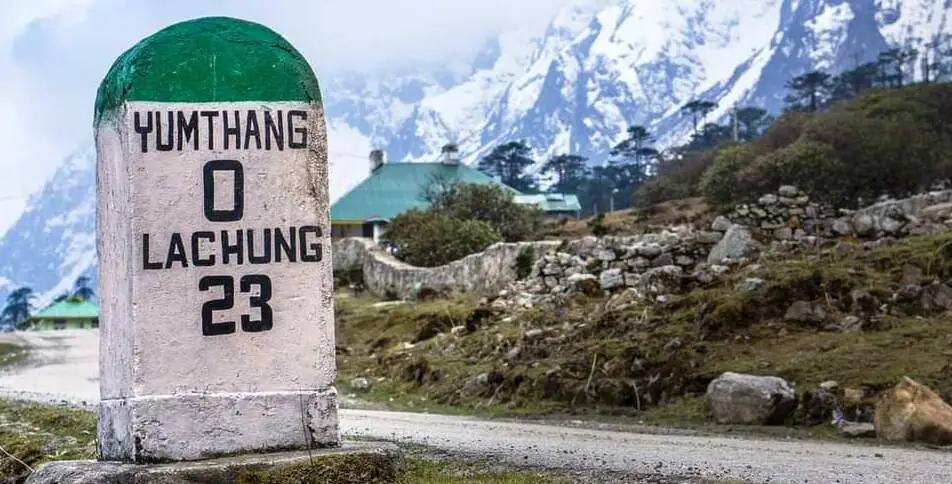 TRAVEL TIPS FOR NORTH SIKKIM ZERO POINT TOUR
Another attractive tour package, besides the
North Sikkim Tour Packages from Siliguri/Njp/Bagdogra
, is the
Zero point tour
. Located at the height of 15000ft, It is also known as 'Yume Samdong' among the locals. As it is the final civilian destination before you can come to the Chinese border, there are lots of facts you must know apart from enjoying its scenic mountain beauty:
● If you're someone or have someone in your group who has breathing problems, you must avoid this place.
● A permit called the Protected Area Permit (PAP) is needed to
visit Zero Point
, which you can get from the Tourism Office of Gangtok, the District Administrative Center at Mangan or the Sub-Divisional Magistrate's Office at Chungthang.
● You must carry your warm clothes for visiting this place as Zero Point has a sub-zero temperature.
● You can rent a pair of snow overcoats, boots and gloves from here for an extra fee, approximately 100 rupees.
● ATMs are not available at Zero Point so make sure to carry proper cash.
● You must need Sikkim Government registered vehicles to
visit Zero Point
while
travel to North Sikkim
.
● The best time for visiting Zero Point must be from April to June.
● You can't go beyond Zero Point as it is close to the Indo-China border.
[Zero point is not incorporated in any
North Sikkim Package Trip plan
. So, if you're willing to visit here you must pay extra to the driver.]
WHAT ARE THINGS TO AVOID IN NORTH SIKKIM TOUR PACKAGES FROM NJP/SILIGURI/BAGODGRA?
→ Avoid litter, carry black bags, plastic bottles, or empty cans
→ Avoid plucking flowers or plants.
→ Avoid drinking
→ Avoid smoking in public places, especially spiritual spots.
→ Avoid bothering wildlife.
→ Avoid playing loud music in the forest.
→ Avoid buying products produced by endangered species.
→ Fulfil the photography restrictions



DISTANCES BETWEEN PLACES TO NOTE FOR THE NORTH SIKKIM TOUR
| From | To | Road Distance | Tentative Time |
| --- | --- | --- | --- |
| NJP | Gangtok | 118.1 KM | 3 hrs 54 min |
| Chungthang | Lachen | 26.2 KM | 1 hrs 3 min |
| Bagdogra | Gangtok | 122.2 kM | 3 hrs 50 min |
| Gangtok | Lachen | 114 kM | 4 hrs 33 min |
| Lachen | Lachung | 46.9 kM | 1 hr 44 min |
| Lachen | Gurudongmar Lake | 65.9 kM | 2 hr 30 min |
| Gangtok | Chungthang | 87.8 kM | 3 hr 30 min |
| Tsomgo Lake | Baba Mandir | 17 kM | 30 min |
| Gangtok | Tsomgo Lake | 44.1 kM | 1 hr 29 min |
| Lachung/td> | Gangtok | 109 kM | 4 hrs 10 min |
| Lachung | Katao Valley | 25 kM | 1 hr |
| Yumthang Valley | Zero Point | 23 kM | 45 min |
| Lachung | Yumthang Valley | 25 KM | 1 hr 22 min |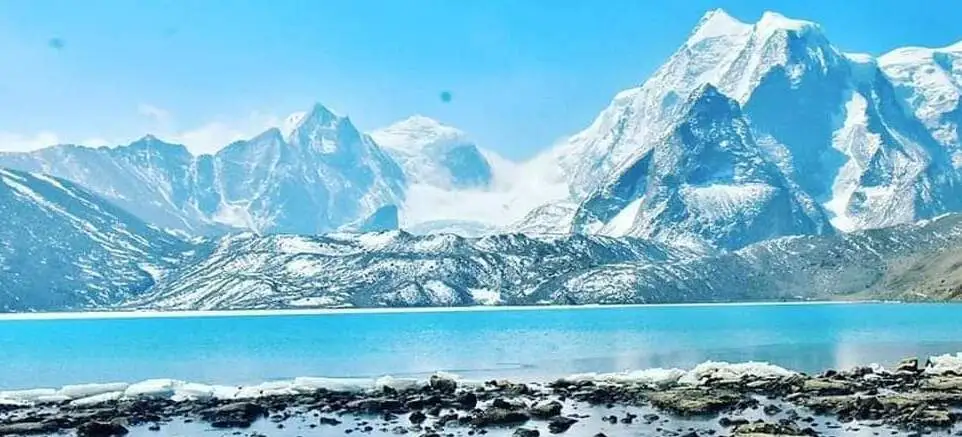 COVID 19 PRECAUTIONS TO FOLLOW DURING NORTH SIKKIM TOUR PACKAGES:
Health and Safety is the most important thing for us, so here is all information on the Covid-19. precautions we'll be taking on this tour→
→ Providing clean and sanitized transportation.
→ Provide masks and sanitisers at every step of your journey.
→ Maintaining sanitization process with trained staff.
→ Sanitization of every hotel room.
→ Well-sanitized and clean rooms.

OTHER NORTH SIKKIM TOUR PACKAGES:
DIFFERENT TYPES OF PACKAGES THAT WE PROVIDE
HOLIDAY TRIP IN NORTH SIKKM
NORTH SIKKIM TOUR PACKAGES FROM NJP/SILIGURI QUERIES [FAQS]
With the preference of our travellers and tour specialists, our North Sikkim Package Tour from NJP 7 nights 8 days will be the best offer to witness the beauty of Sikkim without a separate trekking period. Besides, 7-8 days will be enough to visit all the amazing places of Sikkim like Gurudongmar lake, Yumthang valley, Lachen, Lachung, Zero point, Katao valley etc.
As October is the post-monsoon season there is the least chance of witnessing snow at that time. Still, you can see snow at Zero point and Gurudongmar Lake as it remains snow-covered throughout the year.
North Sikkim is 795 k.m away from the City of Joy, and you can go there through NJP or Bagdogra Airport. And after reaching Sikkim it will be best to hire a cab to go to Gangtok. As Gangtok is the capital city lots of vehicles can be accessible from there to reach Lachen and Lachung. For your help, here are some following distances and roads to reach Lachen, Lachung and other best spots from Gangtok by car. ● Gangtok-Lachen: You can reach Lachen from Gangtok by Chungthang Road, Singtam within 4 h 56m which is at a distance of 120.4 km. ● Gangtok-Lachung: You also have to use the Chungthang Road, Singtam to reach Lachung as well and it'll take 4 hr 40 min.(115.6 km) ● Lachen-Gurudongmar Lake: It will take 2 hr 45 min through via Gurudongmar Road. (65.9 km) ● Lachen-Lachung: Lachen is very close to Lachung (46.9 km) it'll take only 1 hr 55 min to reach via Lachen road. ● Lachung-Yumthang Valley: From Lachung the 'Flower valley' or Yumthang valley is only 1 hr 20 min away at a distance of 25 km. ● Lachung-Zero Point: Zero point is only 48 km away from Lachung and it'll take 1hr 57 min to reach there. ● Yumthang Valley-Zero Point: It's only a 23 km distance between Yumthang Valley to Zero Point. ● Lachung-Katao: The dazzling Katao village is situated 28 km from Lachung. Among the several North Sikkim tour packages from Siliguri, you can choose the North Sikkim 7N 8D literary to have the best trip of Sikkim with Tourist Hub India. Besides, our 2 Nights 3 Days North Sikkim Package from Siligurialso includes Lachen, Lachung and other best sightseeing places with the best meals, vehicles and accommodation.
Most certainly you need permits to visit Tsomgo Lake, also known as Changu Lake, which is issued by the police check post for Indian travellers. The equivalent is also allocated by Sikkim Tourism & Civil Aviation Department for foreign tourists.
As it is permitted for only Indian tourists they can visit it only for four days a week- Sunday, Saturday, Thursday, and Wednesday so, keep this in your mind before booking a Nathula pass trip and proceed with the vital documents as according.
The tourists should get a permit for Nathula Pass through a Registered Tour Operator of Sikkim like TouristHub, by filling up an application given by the agency which will cost Rs.150-200, with an additional charge of Rs.20 for the authority.
Zero point is one of the tops visited places in Sikkim. With its scenic beauty and breathtaking views, it'll last in your memory for a long time. However, the place is situated very close to the Indo-China border and is the last outpost to have civilization in Sikkim. Moreover, you must reach Lachung first to go to the Zero point via car. The journey between Lachung and Zero Point almost takes 4-5 hrs based on the condition of the roads. (124Km) Additionally, the vehicle in the offseason can cost Rs.4000/- per car and Rs.6000/- per car in peak season. So, for having a worry-free journey book your package with us and we'll provide you with a relaxed and comfortable trip.
The routes to places of high heights like Changu lake or Nathula pass are often closed due to heavy snowfall. However, Gangtok is not common for snowfall.
It's very simple to plan a North Sikkim tour packages from Siliguri/NJP just pick up your phone and book your trip with popular tourist agencies like Touristhub, we have amazing North Sikkim Tour packages from NJP and you can choose one as per your preferred itinerary.
As per the specialist of Sikkim Tourism, the best month to visit Sikkim is May, March, October or mid-December, at this time the beauty of Sikkim will be at its top.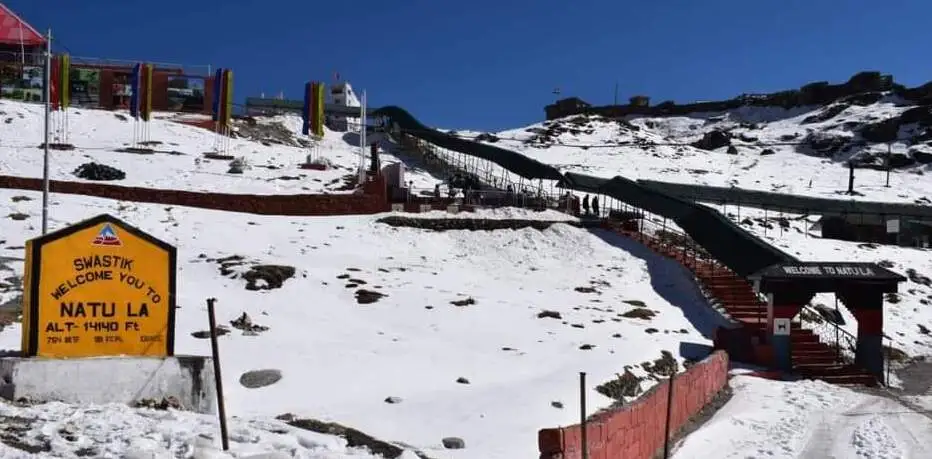 NORTH SIKKIM TOUR BOOKING AND CANCELLATION POLICY:
→ North Sikkim Tour Package booking Would be Intimated through corporated emailm id.
→ Company Service Voucher Would be Issued to the Guest aginst the same.
→ 50% advance payment (100% for super peak time) is required to get the confirmation.
→ 100% Payment to be made before 3 days of Check In.
→ For any cancellation irrespective of no of days 15% charges will be levied.
→ 25% of the Package amount to be levied if cancelled between 20- 07 days before Check in.
→ 50% of the package amount to be levied If Cancelled between 07 – 03 days of Check in.
→ No Refund incase Of No show /Short Stay/or if Cancelled between 72 Hrs of Check in.
→ 100% cancellation Charge once Booking is made for Super Peak Season.
North Sikkim Tour Packages from NJP Reviews
4.9
Stars Rating, out of
5
based on
189
Reviews
Rohit Agarwal

March 8, 2021

Recently I went on the North Sikkim tour with Tourist Hub India. And God! It was amazing! From Gurudongmar Lake to Chopta Valley, we have visited most of the amazing spots. Our tour guide was an amazing person and all the service was very well-customized.

Animesh Biswas

April 18, 2018

I travelled to Kaulk for the puja vacation last year and it's the best time to have a view of the Kanchenjunga range, especially in the early morning. The peaceful weather, amazing lakes, mountains and valleys were at their best beauty at this time. The overall service was great and our souvenirs still make us miss Sikkim more!

Tithi Chatterjee

Jan 01, 2021

I had an amazing Sikkim's Darjeeling tour package with my family. Tourist Hub's staff were very helpful and knowledgeable. They guide us very delicately before and throughout the journey! Thank you for helping us to enjoy the amazing trip! Well done Tourist Hub India!

Sandeep Jaswal

Dec 25, 2020

I recently booked the North Sikkim tour packages from NJP with Tourist Hub for 7D 8N to visit all the amazing spots of Sikkim. And thank God we book it with Touristhub. They always keep in touch with us throughout the journey for knowing our walkabouts and comfort. The Yumthang Valley tour was the best part of all for me! Thank you Tourist Hub India!

Siddharth Halder

Jan 15, 2021

Just returned from the North Sikkim Tour with Tourist Hub India! And without any exaggeration, we had a blast! Travelling with elderly parents in a place like Sikkim was a bit uncomfortable for me but with the Tourist Hub India, I didn't need to worry a bit. It was just perfect!